Danse et personnes âgées : « Pas de liaison et liaison par les pas »
The objective is to study if the shared dance between the nurse and the residentscan first, enhance the elderlyperson's perception of themselves, as well as the perception of the professionals on the process of aging and on the residents' abilities, secondly, support the relation between the medical team and the residents as well as the creation of social relationships between the residents. At first, wedealtwith the concepts of oldage, dance and on the work of variouschoreographers. Secondly, weperformedourresearch by participating observation and used the semidirect interviews with the residents and with the staff to verifyourhypothesis. Duringourproject of shared dance, weobserved positive effects on the elderly on their body 's perception, their social relationshipswitheachothers and whatwecanbring to eachother in term of experiences and shared feelings. Our conclusion is that the shared dance allows an improvementconcerning the body's perception in elderly people, the social ties, and the relation nurse - resident and simultaneously, it assertstheirsingularities and differences.
Notre objectif était d'étudier si la danse partagée entre soignants-résidents pourrait favoriser l'évolution du regard de la personne âgée sur son corps, celle des professionnels sur le processus du vieillissement et sur les capacités des résidents, appuyer la relation entre l'équipe soignante et les résidents ainsi que la création de liens sociaux entre ces derniers au sein d'un EHPAD. Dans un premier temps, nous nous sommes penchés sur les concepts de vieillesse, de danse ainsi que sur le travail de différents chorégraphes. Dans un second temps, nous avons réalisé notre recherche par observation participante et utilisé des entretiens semi-directifs auprès des résidents et du personnel soignant pour vérifier notre hypothèse. Durant notre projet de danse partagée, nous avons observé des apports bénéfiques pour les personnes âgées tant au niveau de la connaissance de soi et de son corps, qu'au niveau des relations sociales avec les autres et sur ce que nous pouvons nous apporter mutuellement en terme d'expériences et d'émotions partagées. Ainsi, nous pensons, grâce à nos résultats, que la danse permet d'apporter une amélioration concernant le rapport au corps en vieillissant, les liens sociaux, et la relation soignants-résidents mais aussi d'affirmer à la fois sa singularité et sa différence.
Fichier principal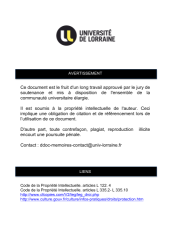 BUS_M_2016_MAIX_BERTIN_DIANE.pdf (835.86 Ko)
Télécharger le fichier
Origin : Files produced by the author(s)