Maladie de parkinson et freezing : proposition d'un programme spécifique A.P.A et intérêt d'une prise en charge à domicile chez un patient en isolement social
Freezing of gait is a movement disorder that can affect someone with Parkinson's disease. It impact quality of life, and limit motor control. Physical activity can help to struggle against freezing disorders, provided that it's adapted in a specific program. In this unique case study, the aim was to limit freezing disorders in order to go out again alone. We have achieved positive results following two month training, at home. Physical activity must incorporate aerobic training, cognitive work in double task, specific muscle building, gait, balance and postural exercises. Sensorimotor integration is also important, particularly visual-spatial dimension. After two months training, the subject seems to master freezing episode, and is able to walk alone outdoor. We have to stay careful about conclusions, because effects have been demonstrated in only one subject.
Le freezing est un trouble du mouvement qui peut affecter certaines personnes atteintes de la maladie de Parkinson. Il impacte alors fortement la qualité de vie des patients, et limite leur motricité. L'activité physique peut aider à lutter contre les troubles liés au freezing, à condition qu'elle soit adaptée sous forme de programme spécifique. Dans cette étude de cas unique, l'objectif était de limiter les troubles du freezing, pour que la personne puisse de nouveau sortir de chez elle en autonomie. Nous avons obtenu des résultats encourageants à la suite d'un programme de deux mois, à domicile. Il faut intégrer dans les activités physiques, du travail aérobie, couplé à du travail cognitif sous forme de double tâche, du renforcement musculaire ciblé, du travail d'équilibre et de posture, et des activités sollicitant l'intégration sensorimotrice du sujet, avec une dominante visuo-spatiale. A la suite des deux mois d'entrainement, la personne semble réussir à maîtriser l'apparition d'un épisode de freezing, et marche en extérieur de façon autonome. Il faut tout de même rester prudent sur les conclusions car les effets sont démontrés sur un seul sujet.
Fichier principal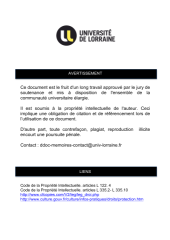 BUS_M_2016_FERRAINA_LUCAS.pdf (1.5 Mo)
Télécharger le fichier
Origin : Files produced by the author(s)