Être infirmier en milieu carcéral. Le jugement de l'autre dans la relation de soin, une double condamnation ? Panser sans arrière-pensée
After an intership in a care unit in jail, I found that there were a lot of preconceptions of prisons where only our prejudices give us an idea of this mystified universe. If the correlation between « care » and « imprisonment » seems paradoxical, nurses take care of prisoners' health. To overcome this fear of the unknown, the specificity of the nursing role in prison must be highlighted. In a context where judgment condemns, my research question is the following: « How can the mutual judgment of the care giver and the patient, both vulnerable, make the establishment of trust during a caring relationship in prison more complex? » Two suppositions exude from my theorical research : « The judgment of the care giver and/or the patient in the caring relationship may influence trust» and it's « By detaching themselves of their feelings that the care givers will succeed viewing the prisoner as a proper person who needs care ». My exploratory paper is based on a qualitative method. To succeed in doing this study, I chose a specific tool, semi-structured interviews, to interrogate nurses working in jail. The testimonies collected made me fully aware that in every human relationship, no one can help to pass judgment on others. In the context of care relationship in prison, the judgment of the other impacts unavoidably on the climate of trust. Putting things into perspective, relational abilities allow care givers on the one hand, to consider the prisoners as proper persons, and on the other hand, to maintain their credibility as health professionals.
Après avoir effectué un stage au sein d'une unité de soin en milieu carcéral, j'ai constaté que de nombreuses représentations existaient sur la prison, univers mystifié dont seuls nos préjugés nous dressent le portrait. Si la corrélation entre « soin » et « emprisonnement » semble paradoxale, des infirmiers veillent pourtant sur l'état de santé des détenus. Pour vaincre cette peur de l'inconnu, la spécificité du rôle infirmier en établissement pénitentiaire doit être mise en exergue. Dans un contexte où le jugement condamne, ma question de recherche est la suivante : « En quoi le jugement réciproque du soignant et du soigné, tous les deux vulnérables, peut-il rendre complexe la mise en place d'une relation de confiance lors d'une relation de soin en milieu carcéral ? » Deux hypothèses émanent de mes recherches théoriques : « Le jugement porté par le soignant et/ou le soigné dans la relation de soin influence la relation de confiance. » et « C'est en prenant du recul par rapport à son ressenti que l'infirmier arrivera à considérer le détenu comme une personne à part entière, en attente de soin. » Ma recherche exploratoire se base sur une méthode descriptive de type qualitative grâce à des entretiens semi-directifs réalisés auprès d'infirmiers exerçant en milieu carcéral. Les témoignages recueillis, m'ont permis de prendre conscience que dans toute relation humaine, nul ne peut s'empêcher de porter un jugement sur l'autre. Dans le cadre de la relation de soin en milieu carcéral, le jugement de l'autre impacte inéluctablement la relation de confiance. Prise de recul et capacités relationnelles permettent aux soignants d'une part, de considérer le détenu à part entière et d'autre part, de conserver leur crédibilité comme professionnels de santé.
Fichier principal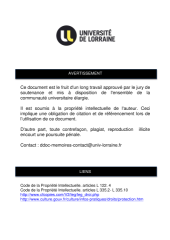 BUMED_MINF_2016_NEIGE_MARIE.pdf (3.24 Mo)
Télécharger le fichier
Origin : Files produced by the author(s)