Les prises en charge orthophonique et kinésithérapique des paralysies faciales périphériques chez l'adulte : complémentarité et collaboration
Peripheral facial paralysis leads to many aesthetic, functional, psychological and social consequences for people living with it. A speech-language therapy and/or physiotherapy is then recommended to help them mitigating discomfort and difficulties. The literature on the rehabilitation of this pathology is split into two groups: speech language therapy and physiotherapy practices are described separately without any interdisciplinary work being mentioned. Thus, we wanted to take stock of the professional practices of these two disciplines to highlight a potential complementarity, in which case an interdisciplinary collaboration could be relevant. To that end we developed two similar questionnaires intended to identify the professional practices of therapists and know their view about a potential interprofessional collaboration. These questionnaires were exclusively distributed online. They helped us collecting 56 responses. Results show that speech-language therapists' goals and interventions are more concentrated on functional recovery than the goals of physiotherapists. Furthermore, tools and techniques used by professionals vary greatly and they don't always match with the area of expertise of the latter. There is therefore a partial complementarity between the professional practices of therapists and of physiotherapists. The majority of therapists work in isolation with their patients and are ignorant of the practices of their colleagues. Many look at speech-language therapy or at physiotherapy as an additional potentiality to the work they offer and they find it worthwhile to consider interdisciplinarycollaboration.
La paralysie faciale périphérique entraîne de nombreuses conséquences esthétiques, fonctionnelles,psychologiques et sociales chez les sujets qui en sont porteurs. Une prise en charge orthophonique et/ou kinésithérapique est alors préconisée pour les aider à pallier les gênes et les difficultés rencontrées. La littérature consacrée à la prise en charge rééducative de cette pathologie est scindée en deux : les pratiques orthophonique et kinésithérapique sont chacune décrites isolément sans qu'un travail interdisciplinaire ne soit mentionné. Nous avons donc voulu dresser un état des lieux des pratiques professionnelles de ces deux disciplines afin de mettre en lumière une éventuelle complémentarité, auquel cas une collaboration interprofessionnelle pourrait être pertinente. Nous avons élaboré à cet effet deux questionnaires similaires destinés à cerner les pratiques professionnelles des thérapeutes et à connaître leur positionnement au sujet d'une éventuelle collaboration interprofessionnelle. Ces questionnaires, qui ont été diffusés exclusivement sur Internet, nous ont permis de recueillir 56 réponses. Les résultats obtenus révèlent que les objectifs et les interventions des orthophonistes sont davantage orientés vers la récupération fonctionnelle que ceux des kinésithérapeutes. Par ailleurs, les outils et les techniques utilisés par les professionnels sont très variables et ne concordent pas toujours avec leur champ de compétences. Il existe donc une complémentarité partielle entre les pratiques professionnelles des orthophonistes et celles des kinésithérapeutes. La majorité des thérapeutes interviennent isolément auprès de leurs patients et méconnaissent les pratiques de leurs collègues. Ils sont nombreux à voir en l'orthophonie ou en la kinésithérapie un complément potentiel au travail qu'ils proposent,et à trouver un intérêt à la collaboration interprofessionnelle.
Fichier principal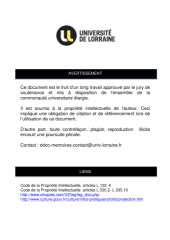 BUMED_MORT_2015_PORTE_ANNE_GAELLE_POUTRIEUX_JULIE.pdf (1.63 Mo)
Télécharger le fichier
Origin : Files produced by the author(s)