L'élaboration de l'image corporelle chez l'enfant atteint d'un cancer. Effets d'un programme d'APA en visio au retour à domicile
Introduction: Cancer creates notable repercussions on the physiological, social and psychological level of children with in particular a very strong changing in the perception of the body image. To avoid psychopathological consequences, it seems necessary to take into account this dimension. The national institute of cancer shows the importance of a physical practice during and after hospitalization. The SAPATIC system proposed by V@si makes this continuation of the program APA possible back home which could be able to act in the modification of the body image of the child. Objective: Show the effects of a program of physical activities adapted in visio on the physical image of the children affected by cancer when they are back home. Method: We studied two children affected by a leukemia after their return home over a period of 5 weeks. The APA program visio overseen by a professional consisted of 2 sessions a week. To report the effects of this program, an evaluation of the body image was realized at the beginning and at the end of the program. Results: The score obtained at the survey as well as the test of the drawing show an improvement of the body image for both children at the end of 5 weeks of practice. The interviews but also the observation in situ show that the APA allow the child to find a more muscular, more energetic body and a source of pleasure. The pursuit of the program after leaving the hospital allows us to accompany the individual in the modification of his body image and in the reappropriation of his body. Conclusion: the program of APA visio when the child is back home accompanies him in a positive reappropriation of his body.
Introduction : L'expérience du cancer engendre chez l'enfant des répercussions notables au niveau physiologique, social et psychologique avec notamment une altération de l'image corporelle très marquée. Afin d'éviter des conséquences psychopathologiques il semble nécessaire de prendre en compte cette dimension. L'institut national du cancer montre l'importance d'une pratique physique pendant et après l'hospitalisation. Le système SAPATIC proposé par V@si rend possible cette poursuite du programme APA au retour à domicile pouvant intervenir dans la modification de l'image corporelle de l'enfant. Objectif : Montrer les effets d'un programme d'activités physiques adaptées en visio sur l'image corporelle des enfants atteints de cancer au retour à domicile. Méthode : Nous avons suivi deux enfants atteints d'une leucémie lors du retour à domicile sur une période de 5 semaines. Le programme APA en visio supervisé par un professionnel était composé de 2 séances par semaine. Afin de rendre compte des effets de ce programme, une évaluation de l'image du corps a été réalisée au début et à la fin du programme. Résultats : Le score obtenu au questionnaire ainsi que le test du dessin montre une amélioration de l'image corporelle chez les deux enfants au bout de 5 semaines de pratique. Les entretiens mais aussi l'observation terrain montrent que les APA permettent à l'enfant de retrouver un corps plus musclé, plus énergique et source de plaisir. La poursuite du programme à la sortie de l'hôpital permet d'accompagner l'individu dans la modification de son image corporelle et dans la réappropriation de son corps. Conclusion : Le programme d'APA en visio au retour à domicile accompagne l'enfant dans une réappropriation positive de son corps amenant à une image corporelle plus satisfaisante.
Fichier principal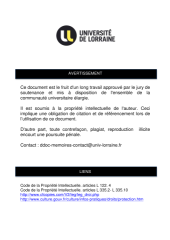 BUS_M_2015_ISCH_CELIA.pdf (2.87 Mo)
Télécharger le fichier
Origin : Files produced by the author(s)