Le silence de l'écrit : un outil outil orthophonique pour la cohérence du discours des jeunes à traits psychotiques
Some speech language therapists find themselves really helpless with teenagers under a psychotic spectrum. Indeed, even if the structure of their language is similar to any of us, their sentences seem to of lack a common sense. Our work was concentrated on looking for away to take care of these teenagers. Some essays studied the speech of teenagers suffering of a psychotic disorder. They showed that they had a singular way to express themselves. Their speech is elaborated on the sonority and not on the signified. We can observe different phenomena of assonances, which can lead to a loss of coherence. One question occurred: "how to improve the coherence of their speech?". The resonance of the speech is inherent to the oral form. Therefore we made the hypothesis that the written form, soundless, will show less assonance and consequently less incoherence. We compared the oral and written dissertation of seven psychotic teenagers who had to describe the different steps of chemical experiences. The experiences were made in small group between two and four people. The results showed more assonance in the oral dissertation than in the written one. In the written dissertation, the phenomena of assonances sometimes led to a loss of coherence. Although, the results we obtained couldn't be generalized because the sample of the population was too small. To be moresignificant, this study should be extended to a bigger sample.
Ce travail est né du constat que face aux adolescents à traits psychotiques, certains orthophonistes se trouvent démunis. Pour cause, ces jeunes présentent un langage dépourvu d'un sens commun. Nous avons ainsi choisi d'orienter notre travail vers la recherche d'un outil de prise en charge pour les adolescents à traits psychotiques. Des mémoires d'orthophonie se sont intéressés au discours oral de ces jeunes. Ces travaux ont montré que ce discours était singulier. Il est dépourvu d'un signifié linguistique et s'élabore selon le versant sonore du langage. Il est caractérisé par des phénomènes d'assonances pouvant entraîner des pertes de cohérence. Ainsi, nous avons cherché un outil qui pourrait favoriser une meilleure cohérence discursive. En considérant la dimension sonore inhérente à l'oral, nous nous sommes tournée vers l'écrit. Nous avons émis l'hypothèse que l'écrit, étant plus « silencieux », présenterait moins de phénomènes d'assonances et donc d'incohérences. Pour répondre à notre hypothèse, nous avons comparé les discours oral et écrit de sept adolescents à traits psychotiques. Les jeunes devaient restituer à l'oral et à l'écrit, les étapes nécessaires à la réalisation d'expériences chimiques. Ces expériences étaient effectuées en groupe. Les résultats obtenus ont montré que les phénomènes d'assonances étaient plus nombreux dans le discours oral que dans le discours écrit. A l'oral, ces phénomènes entraînent parfois des pertes de cohérence. Or, à l'écrit, aucun phénomène d'assonances n'a entraîné de pertes de cohérence. Les résultats obtenus n'ont pu être généralisés du fait d'un échantillon de population restreint.
Fichier principal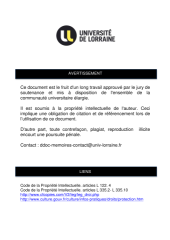 BUMED_MORT_2015_ALT_MATHILDE.pdf (1.74 Mo)
Télécharger le fichier
Origin : Files produced by the author(s)