Optimisation de la communication digitale d'une entité sportive : l'exemple de l'Institut National du Sport, de l'Expertise et de la Performance (INSEP)
This report is an approach of the improvements that can be brought into the digital communication strategy of a sports organization: in this case, INSEP's. How INSEP should use and exploit its digital communication at best to succeed in its communication strategy ? We will first briefly describe what a digital communication is, and how essential it is, before submitting 2 methods that can be transposable to any type of analysis (either internal or external) of a sports organization. This has made it possible to define the new directions in the digital world and in sports in general, but also those on the digital supports on which INSEP is active. Finally, we will propose some appropriate solutions to every kind of problems and will test them in situ in order to answer the problem of the expounded subject.
Ce mémoire est une approche des améliorations pouvant être apportées dans la stratégie de communication digitale d'une entité sportive : en l'occurrence l'INSEP. Comment utiliser et exploiter au mieux la communication digitale de l'INSEP pour réussir sa stratégie de communication ? Nous présenterons succinctement la communication digitale et l'intérêt primordial qu'elle revêt dans ce support. Ensuite l'utilisation de deux méthodes transposables à tout type d'analyse interne et externe d'une organisation sportive, nous a permis de définir les nouvelles orientations du monde du digital et du sport en général, mais aussi plus précisément celles des supports numériques sur lequels l'INSEP est présent. Enfin, nous proposerons des solutions adéquates à chaque type de problème, et les testerons in situ afin de répondre à la problématique du sujet exposé.
Fichier principal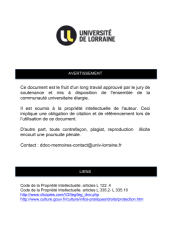 BUS_M_2015_GARRIGUES_LUCIE.pdf (2.72 Mo)
Télécharger le fichier
Origin : Files produced by the author(s)