Conceptualisation d'un module de redynamisation de demandeurs d'emploi de longue durée par le biais du sport
Regarding unemployment, the labor pool of Saint-Dié of Vosges is strongly affected, with indicators much superior to the departmental, regional and national trends. The sedenterisation, the isolation, the lack of mobility and health problems complicate the return in the employment and establish a major problem because more than a job-seeker on two is him for more than a year. I thus chose, through the conceptualization of a module of re-energization called "Move towards the employment", to use the physical activity to change the everyday life of these long-term job-seekers by making them actors of their new course of life. Indeed, the physical activity is going to contribute to break their isolation and to build to itself a network. Besides, the fact furthermore not to be sedentary is going to restore them trust and to improve their health by fighting effectively against their stress, their depression and their anxiety. By being good in their body and in their head, they can then envisage a new start towards a training, a qualification or a professional world.
En matière de chômage, le bassin d'emploi de Saint-Dié des Vosges est fortement impacté, avec des indicateurs bien supérieurs aux tendances départementales, régionales et nationales. La sédentarisation et l'isolement rapide des chômeurs compliquent leur retour à l'emploi et constituent une problématique majeure puisque près d'un demandeur d'emploi sur deux l'est depuis au moins un an. Suite à ce constat, j'ai choisi, à travers la conceptualisation d'un module de redynamisation appelé « Bouger vers l'emploi », d'utiliser l'activité physique pour changer la vie quotidienne de ces Demandeurs d'Emploi de Longue Durée (DELD) en les rendant acteurs de leur nouveau parcours de vie. En effet, par ce biais, l'activité physique va contribuer à rompre leur isolement et à se créer un réseau. Par ailleurs, le fait de ne plus être sédentaire va leur redonner confiance et améliorer leur santé en luttant efficacement contre leur stress, leur dépression et leur anxiété. En étant bien dans leur corps et dans leur tête, ils pourront alors envisager un nouveau départ vers une formation, une qualification ou le monde professionnel.
Fichier principal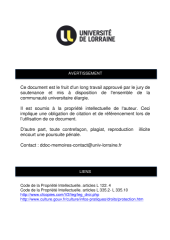 BUS_M_2015_MARCHAL_MARIE.pdf (3.38 Mo)
Télécharger le fichier
Origin : Files produced by the author(s)