Réflexion sur le développement du football sur le territoire chinois en prenant le football français comme référence
China is the birthplace of football. However, since the creation of the Jia A professionalleaguein 1994, the history of Chnieseprofessional football leagueisonly 20 years in terms of professionalization. As the mostpopulous country in the world, Chinese football has always one stepbehindcompared to other sports in the territory and other world powers. In 2002 World Cup, China's national football team wasqualified to join the game, which gave Chinesestrong confidence to developthier football. Whereas, from 2002, the Chinese football is more down to the black of the abyss. Many people has been reflected on the phenomenon : what leads to the fail of chinese football? Soccer fraud ? Autorities corruption ? Or the insufficient of registeredplayers? In my point of view, above questions are consequences more than de cause. In the following content, I willtry to analyse and find out the root cause. France, the country where the FIFA wasborn, has over 150 years of football history. It is the country of Michel Platini, Zinedine Zidane and Henri Delaunay. There does not have muchdepth and comparative approaches on thissubject in China compared to other countries.That'swhy I try to lay the first stone in thisfield. To discover the failure of Chinese football, I will use the comparative approaches to analyze the theroles of the State, local authorities and transport authorities in organizing football activities, searching the main problemsthathinder the development of Chinese football and try to propose solutions the characteristics of the current situation of China.
La Chine est le pays où a été né le football. Néanmoins, depuis la création de la première ligue professionnelle Jia A en 1994, le football chinois a seulement 20 ans d'histoire en terme de la professionnalisation. En tant que pays le plus peuplé dans le monde, le football chinois a toujours un train de retard par rapport aux autres disciplines sportives sur le territoire et par rapport aux autres puissances mondiales. Après l'apparition de la Coupe du Monde en 2002, les Chinois pensaient que ce serait le moment où le football chinois prendrait son essor. Mais à partir de 2002, le football chinois est descendu au plus profond de l'abîme. On a beaucoup réfléchi sur ce phénomène: qu'est-ce que qui dérègle le football sur le territoire chinois? Des matchs truqués au sein des différentes ligues? Des problèmes de corruption autour des autorités organisatrices du football? Ou bien l'insuffisance des joueurs enregistrés,etc.? Or, tous les problèmes apparus sont plus des conséquences que des causes. Il faut donc creuser sur les causes cachées derrière les conséquences. Parallèlement, La France est le pays où a été née la FIFA, disposant de plus de 150 ans d'histoire de football avec des figures connues telles que Michel Platini, Zinédine Zidane et Henri Delaunay dont le dernier est un des inventeurs de la Coupe du Monde. En fait, il n'y avait pas beaucoup d'approches comparatives et approfondies sur ce sujet en Chine par rapport aux autres pays. C'est la raison pour laquelle j'essaie de poser la première pierre dans ce domaine. Mon approche tentera d'analyser les rôles de l'Etat, des autorités territoriales et des autorités organisatrices dans l'organisation des activités de football, de chercher les problèmes principaux qui freinent le développement du football chinois et d'essayer de proposer des solutions adaptées aux caractéristiques de la situation actuelle de la Chine.
Fichier principal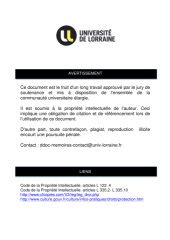 BUS_M_2015_LI_DANYANG.pdf (2.35 Mo)
Télécharger le fichier
Origin : Files produced by the author(s)