Le bredouillement : enquête auprès des orthophonistes en vue de l'élaboration d'un site internet
Cluttering is a more frequent disorder than stuttering, and it requires an adapted treatment. Nevertheless, this pathology seems to be underestimated by the French speech-therapists nowdays and few theoretical sources are available in our language about this subject. The objective of this report is to wonder whether cluttering is currently known by speech- therapists or not so as to create, if necessary, a website with information about cluttering, both for speech-therapists and people who clutter. A questionnaire has been created in order to make an inventory of speech-therapists' knowledge about cluttering. 221 therapists have agreed to take part in this survey, which has permitted us to state clearly their needs and expectations. It has been noted that these therapists don't have solid theoretical basics about cluttering, and that their capacities to offer an adapted treatment to persons who clutter are impaired. This study has also allowed us to see that the creation of a website would be an asset for speech-therapists : this would enable them to have more theorical knowledge about this disorder, and this would ease the treatment of people who clutter. So a website has been created under the address www.info-bredouillement.zz.vc. This website is available to anyone who is interrested in cluterring. It provides theoretical information, but also testimonials of people suffering from cluttering and contacts of associations devoted to cluttering. We hope it is pleasant and easy to read while bringing a great deal of reliable information.
Le bredouillement est un trouble plus fréquent que le bégaiement, et il nécessite une prise en charge adaptée. Pourtant, cette pathologie semble aujourd'hui méconnue par les orthophonistes français, et peu de sources d'informations existent sur ce sujet, dans notrelangue. L'objectif de ce mémoire est donc d'observer dans quelle mesure le bredouillementest connu aujourd'hui par les orthophonistes en France, dans le but de créer, si nécessaire, un site d'informations relatives à cette pathologie, à la fois pour les orthophonistes et pour les personnes qui bredouillent. Un questionnaire a été créé dans le but de faire un état des lieux des connaissances qu'ont les orthophonistes à propos du bredouillement. 221 professionnels ont accepté de participer à cette enquête, ce qui nous a permis de cerner au mieux leurs besoins et leurs attentes. Nous avons pu constater qu'ils ne disposent pas de bases théoriques solides à propos du bredouillement, et que leur capacité à offrir une prise en charge adaptée aux personnes qui bredouillent est donc altérée. Cette enquête nous a également permis devoir que la création d'un site internet serait un atout pour les orthophonistes : cela leur permettrait d'avoir davantage de connaissances théoriques sur ce trouble, et cela faciliterait la prise en charge des personnes qui bredouillent. Un site internet a donc vu le jour sous l'adresse www.info-bredouillement.zz.vc. Ce site est accessible à toute personne s'intéressant au bredouillement. Il met à disposition des informations théoriques, mais aussi des témoignages de personnes qui bredouillent, et des contacts d'associations consacrées au bredouillement. Il se veut agréable et facile à lire, tout en apportant des informations fiables et complètes.
Fichier principal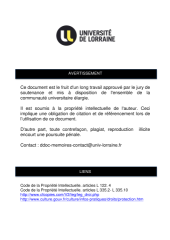 BUMED_MORT_2015_PERCEVAULT_NOLWENN.pdf (1.71 Mo)
Télécharger le fichier
Origin : Files produced by the author(s)