La distance thérapeutique dans la prise en charge à domicile de maladies neurodégénératives
When a patient with neurodegenerative disease is no longer able to move, the speech therapist has to go to his home to work. This home management of neurodegenerative diseases has its own specificities, because the speech therapist goes into the private and personal place of a patient who is at the end of his life. Because of the patient condition, the family circle is often involved in the session. Therefore the therapist has to take into account all these factors, and the therapeutic relationship is quite different being at home or at surgery. The question is how the homecare specificities can affect the right therapeutic distance acquisition. In order to find this out, we wanted to establish a picture from the angle of therapeutic distance. We send a questionary on Facebook to speech therapists, and conducted to look at the answers in a quantitative and qualitative way. The most frequent difficulties were related to the cost of time and energy spent, concern the helplessness with the patient's condition ; and isolation the therapist feels. Finally we think a generalisation of reflective practice might be a good solution. We also had a through look at therapists' choices to find out which ones are decisive, especially concerning the right therapeutic distance.
Lorsqu'un patient atteint de maladie neurodégénérative ne peut plus se déplacer, l'orthophoniste se rend au domicile de celui-ci pour réaliser la séance. Cette prise en charge à domicile de maladies neurodégénératives présente des spécificités, car l'orthophoniste se déplace dans le lieu privé, intime, d'un patient en fin de vie. Du fait de l'état de santé du patient, l'entourage est souvent très présent. L'orthophoniste doit donc travailler en prenant en compte ces facteurs, et la relation thérapeutique est souvent autre que si le suivi s'était déroulé au cabinet. Ainsi nous nous demandons dans quelle mesure les spécificités de la prise en charge à domicile de maladies neurodégénératives influencent l'acquisition de la juste distance thérapeutique. Pour le savoir, nous souhaitions dresser un état des lieux sur ces prises en charge, sous l'angle de la distance thérapeutique. Nous avons donc élaboré un questionnaire accessible pour les orthophonistes par le réseau social Facebook, puis nous avons effectué une analyse quantitative et qualitative des réponses. Les difficultés les plus citées dans les réponses des orthophonistes pratiquant des prises en charge à domicile de maladies neurodégénératives sont liées au coût en temps et en énergie que ces prises en charge demandent ; liées également à leur impression d'impuissance face à ces maladies. Le sentiment d'isolement a aussi une place prépondérante dans les réponses au questionnaire. La multiplication de groupes d'analyse de pratiques professionnelles, de type supervision, peut être une solution. Nous examinons aussi quels choix, pris par les orthophonistes, sont déterminants pour le cadre de la prise en charge et par conséquent pour l'établissement d'une juste distance thérapeutique.
Fichier principal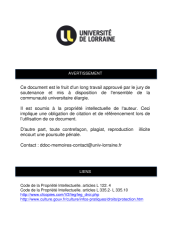 BUMED_MORT_2015_LE_MEVEL_MAUD.pdf (947.67 Ko)
Télécharger le fichier
Origin : Files produced by the author(s)