Quelles sont les connaissances en alimentation des jeunes sportifs martiniquais âgés de 9 à 15 ans ? Diagnostic préalable à l'élaboration d'un projet sur l'alimentation des jeunes sportifs en Martinique
Martinique has 64 000 sport licences in 2013. Young people aged 5 to 19 constitute 58% of the licences. Nutrition is a major issue in the French Carribean due to the prevalence of obesity and overweight. The Regional Olympic and Sports Committee of Martinique became interested of feeding knowledge from 9 to 15 years old. Feedbacks from field workers suggest that their diet is inadequate. We realized an inventory of knowledge of athletes form 9 to 15. They were interviewed using a questionnaire inspired by the "General Nutrition Knowledge Questionnaire", including food habits and knowledge. The results show inadequate intake of essential nutrients and too high intake of sugars and fats. We found a lack of konwledge on the nutritional content of foods, with better results in girls than boys. We hope then to realize a program for martinic young athletes bsed on the principles of the Ottawa Charter, to give them access to the necessary information and feed knowingly.
La Martinique compte 64 000 licences sportives en 2013. Les jeunes de 5 à 19 ans constituent 58% des licences. La nutrition est un enjeu majeur aux Antilles du à la prévalence de l'obésité et du surpoids. Le Comité Régional Olympique et Sportif de Martinique s'est intéressé à l'alimentation des licenciés de 9 à 15 ans. Les remontées des acteurs de terrain évoquent le fait que leur alimentation est inadaptée. Nous avons réalisé un état des lieux des connaissances alimentaires des sportifs âgés de 9 à 15 ans. Ils ont été interrogés à l'aide d'un questionnaire s'inspirant du "General Nutrition Knowledge Questionnaire", incluant des questions fréquentielles et de connaissances. Les résultats montrent des apports insuffisants en nutriments essentiels et trop riches en sucres et en graisses. Nous avons constaté un manque de connaissances sur le contenu nutritionnel des aliments avec de meilleurs résultats chez les filles que chez les garçons. Nous souhaitons par la suite réaliser un programme à destination des jeunes sportifs martiniquais s'inspirant des principes de la Charte d'Ottawa, afin de leur permettre un accès aux informations nécessaires et de s'alimenter en connaissance de cause.
Fichier principal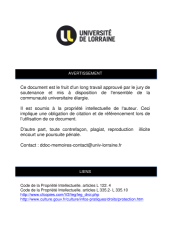 BUMED_MSPM_2015_EL%20LABIB_SALIMA.pdf (738.67 Ko)
Télécharger le fichier
Origin : Files produced by the author(s)