Corrélation entre le score d'Apgar et les pH artériels ombilicaux compris entre 7,00 et 7,20 : quelle prise en charge de la sage-femme en cas de discordance dans deux maternités respectivement de type 1 et 2 ?
INTRODUCTION: The neonatal health's evaluation in delivery room is essential. Variousof neonatal well-being are available midwives including Apgar score and umbilical cord arterial blood pH that can be clashing.METHOD AND RESULTS: We evaluated the correlation between the value Apgar score at one and five minutes and umbilical arterial pH between 7.00 and 7.20 out of 73 singletons born at term, vaginal, by a retrospective study of 2013,in two type 1 and Lorraine's maternity. A weak positive correlation (r = 0.22 and r = 0.20) couldn't be demonstrated statistically (p = 0.054 and p = 0.08). What's more, we interested in adapting the care of midwives for newborns with an Apgar score above 7 and arterial pH between 7.00 and 7.20 ( n= 57).Although resuscitation performed are initiated on clinical criteria , there is a call pediatrician in 32 % of cases and increased surveillance (15% ) on account of limits pH. The second level used to assess their practices. In case of contradiction, 81% to pay more attention to the Apgar score as blood gas. DISCUSSION: However, this choice may be biased by interpretation and realisation of blood gases.Judging by the results, it's seemed interesting to organize reminders on the analysis of blood gases to adjust the care of newborns in cases of contradiction. Finally, the development of a protocol would unify practices.
INTRODUCTION : L'évaluation de l'état de santé néonatale en salle de naissance est primordiale. Différents marqueurs de bien-être néonataux sont mis à disposition des sages-femmes notamment le score d'Apgar et le pH artériel qui peuvent être discordants. MÉTHODE ET RÉSULTATS :Nous avons évalué la corrélation entre le score d'Apgar à une et cinq minutes et les pH artériels ombilicaux entre 7,00 et 7,20 sur 73 singletons nés à terme, voie basse, par une étude rétrospective en 2013,dans deux maternités de type 1 et 2 de Lorraine. Une faible corrélation positive (r=0,22 et r=0,20) n'a pu être démontrée statistiquement (p=0,054 et p=0,08).De plus , nous nous somme intéressés à la prise en charge des sages-femmes pour des nouveau-nés avec un score d'Apgar supérieur à 7 et un pH artériel entre 7,00 et 7,20(n=57). Bien que les gestes de réanimation effectués soient initiés sur des critères cliniques, on retrouve un appel du pédiatre dans 32% des cas et une surveillance renforcée(15%) dus aux pH limites. Le deuxième niveau de ce travail a permis d'évaluer les pratiques des sages-femmes (n=16). En cas de discordance, elles sont 81% à accorder plus d'intérêt au score d'Apgar qu'aux gaz du sang. Cependant, ce choix peut être biaisé du fait de la mauvaise réalisation et interprétation de ces derniers. DISCUSSION : Au vu de ces résultats, il serait intéressant d'organiser des rappels sur l'analyse des gaz du sang afin d'adapter la prise en charge des nouveau-nés en cas de discordance. Enfin l'élaboration d'un protocole permettrait d'unifier les pratiques.
Fichier principal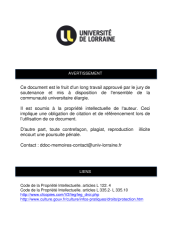 BUMED_MESF_2015_BERREHAIL_LINDA.pdf (1.3 Mo)
Télécharger le fichier
Origin : Files produced by the author(s)