Grossesse après un cancer du sein : étude de la prise en charge de six patientes au sein de la maternité du Centre Hospitalier Régional Universitaire de Nancy entre 2002 et 2013
Today, 10-15 % of women will get pregnant after breast cancer. This was a descriptive study from 2002 to 2013. Six gynaecological and obstetrical files were studied. This study's main objective was to explore the effects of cancer and its treatment on pregnancy monitoring and to learn about patient care in maternity hospitals. Nine spontaneous pregnancies were registered after a 4.75 years period. Apart from a miscarriage, all pregnancies were carried to full term. One patient had hight blood pressure during pregnancy, another after childbirth. A newborn had a lot of malformations and submitted a monitoring per and postnatal. Two patients actually breastfed. From a psychological point of view, 50% of the sample suffered of anxious disorders and 30 % were depressive. A patient with a high risk of cancer made a relapse during her pregnancy, another one 6 years after. Pregnancy is possible after breast cancer. The monitoring of pregnancy was the same as for a physiological pregnancy. Pregnancy requires close monitoring. The midwife isn't present during antenatal care yet, but she is present during patient's hospitalisation. Her place still to be defined within the multidisciplinary management.
Aujourd'hui, 10 à 15% des femmes ont une grossesse après leur cancer du sein. Cette étude était basée sur la description de six dossiers gynécologiques et obstétricaux entre 2002 et 2013 au sein de la maternité du CHRU de Nancy afin de connaître la prise en charge et les conséquences du cancer du sein sur le déroulement d'une grossesse. Neuf grossesses spontanées ont été recensées après un délai de 4,75 ans. Il y a eu 8 grossesses menées à terme et une fausse couche précoce. Une patiente a présenté de l'hypertension artérielle au cours de la grossesse, une autre après l'accouchement. Un nouveauné avait de multiples malformations et a présenté un suivi pré et postnatal rigoureux. L'allaitement maternel a été pratiqué par deux patientes. Du point de vue psychologique, 50% de l'effectif avait des troubles anxieux et 30% dépressifs. Une patiente à haut risque de cancer a fait une rechute au cours de sa grossesse, une autre 6 ans après. Une grossesse après un cancer du sein est possible. Le suivi des patientes ne diffère pas d'une grossesse physiologique mais est plus rigoureux avec un examen mammaire mensuel au cours de celle ci et une surveillance étroite en fin de grossesse. La sage-femme n'est pas encore présente lors des consultations prénatales, mais elle intervient au cours des séjours hospitaliers des patientes. Sa place reste encore à définir au sein de la prise en charge multidisciplinaire.
Fichier principal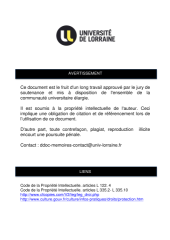 BUMED_MESF_2015_GERDOLLE_OPHELIE.pdf (475.12 Ko)
Télécharger le fichier
Origin : Files produced by the author(s)