La rotation manuelle des variétés postérieures, une hétérogénéité des pratiques professionnelles : état des lieux réalisé auprès des sages-femmes de la Maternité du Centre Hospitalier Régional et Universitaire de Nancy entre le 6 novembre 2014 et 4 janvier 2015
Monitoring occiput posterior position is part of the midwife abilities. Several methods exist and manuel rotation is a simple and an effective technique for improving maternal and fetal prognosis associated with posterior position. We tried to know and understand midwives practices in this taking over and specifically their use of manual rotation. METHODS: It was an empirical qualitative, prospective and single-centered study based on interviews with midwives from the Maternity of Nancy University Hospital. RESULTS : This study evidenced heterogeneous practices regarding choice between practicing manual rotation or not, its frequency of use, the used technique, its indications and conditions. The feeling of its efficiency, the use of techniques described in the literature and training would positively influence the choice between practicing or not manual rotation. However, physiological methods (postures, mobility, acupuncture) are still used more frequently by midwives. CONCLUSION: It would be interesting to teach midwives the technique of manual rotation to allow them to supervise the occiput posterior position in its globality.
Le suivi des variétés postérieures fait partie du champ de compétence de la sage-femme. Plusieurs méthodes de rotation existent dont la rotation manuelle qui est une technique simple et efficace permettant d'améliorer le pronostic materno-foetal lié à ces variétés. Nous avons essayé de connaître et comprendre les pratiques des sages-femmes dans cette prise en charge et, plus particulièrement, leur utilisation de la rotation manuelle.MATÉRIEL ET MÉTHODES : Cette étude était qualitative, observationnelle, prospective et monocentrique, basée sur des entretiens auprès des sages-femmes de la Maternité du CHRU de Nancy. RÉSULTATS : Cette étude a montré une hétérogénéité des pratiques concernant le choix de pratiquer ou non la rotation manuelle, sa fréquence d'utilisation, la technique utilisée, ses indications et conditions de réalisation. Le ressenti de sa bonne efficacité, l'utilisation des techniques décrites dans la littérature ainsi qu'une formation à la technique influencerait positivement le fait de pratiquer ou non la rotation manuelle. Les méthodes physiologiques (postures, mobilité, acupuncture) restent toutefois plus utilisées par les sages-femmes. CONCLUSION : Il serait intéressant de former les sages-femmes à cette manoeuvre afin de leur permettre d'assurer le suivi d'une variété postérieure dans sa globalité.
Fichier principal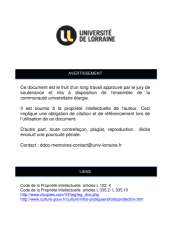 BUMED_MESF_2015_MONTPIED_JEANNE.pdf (705.41 Ko)
Télécharger le fichier
Origin : Files produced by the author(s)