Evaluation environnementale des élevages bovins lait français
Nowadays, the study and mitigation of environmental impacts from livestock are major concerns regarding environmental protection. The purposes of this study were 1) to present environmental assessing methods based on Life Cycle Assessment, and 2) to assess the enteric CH4 production of dairy cattle. In France, dairy cattle produces on average 16.9 (+/- 3.3) kg CH4/ 1000L of milk. For one dairy cow, the production is 108.2 (+/- 10.7) kg CH4 per year. Considering the diet composition, the enteric CH4 production is different than with standard diets (18 kg CH4/ 1000L of milk). Diet effects are complex to analyze at the animal scale. The production may change according to concentrates proportion. We compare one diet based on concentrates and another based on corn silage rather than grass. The production is lower for the first one (-6.81 kg CH4/ head). Considering the whole dairy system, to limit unproductive cattle is a good way to reduce enteric CH4 production. Indeed, a system characterize by few unproductive animals and a poor grass diet produces less enteric methane. Changing diet composition and production efficiency can help to reduce enteric methane production.
Actuellement, l'étude et la diminution des impacts environnementaux dus à l'élevage sont un enjeu important pour la protection de l'environnement. Cette étude traite des différentes méthodes d'évaluation de ces impacts basées sur l'Analyse de Cycle de Vie et se focalise sur l'analyse des émissions de CH4 entérique liées aux ateliers bovins lait. En France, pour un tel atelier, les émissions de CH4 entérique sont en moyenne de 16,9 (+/- 3,3) kg CH4/1000L de lait. Une vache laitière produit, en moyenne, 108,2 (+/- 10,7) kg CH4 par an. Les résultats obtenus en tenant compte de la composition de la ration (méthode Sauvant) diffèrent de ceux obtenus avec des rations types (méthode Vermorel) (18 kg CH4/1000L de lait). A l'échelle de l'animal, les effets de la ration sont complexes à analyser. La part de concentrés peut jouer un rôle. Pour réduire la production de CH4 (-6,81 kg CH4/tête), une ration où elle est élevée semble plus efficace qu'une ration pauvre en herbe et riche en ensilage de maïs. A l'échelle de l'atelier, des exploitations possédant moins d'animaux improductifs émettent moins de CH4 entérique. Un système ayant peu d'animaux improductifs et une ration peu herbagère produit moins de méthane entérique. Jouer sur les pratiques alimentaires et l'efficacité de la production peut permettre de diminuer les émissions de méthane entérique.
Fichier principal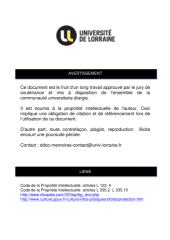 BUS_M_2014_MENET_AMANDINE.pdf (1.54 Mo)
Télécharger le fichier
Origin : Files produced by the author(s)