Impacts d'un couvert pérenne de légumineuse sur la culture du blé tendre d'hiver et conduite du système
Interest for legume living mulch cropping systems is growing among reduced tillage farmers in France. It has been shown that these perennial legume cover crops can control weeds, improve soil structure and build up soil Nitrogen. Living mulches can have highly competitive effects but in some cases they benefit crops by changing the amount of available resources. This MSc Thesis reviews competitive and facilitative interactions for water, nitrogen and light and their influence on crop yield in living mulch systems. Cover crop functional traits clearly affect complementarity with the main crop in time and space. Two field trials with winter wheat as a main crop highlighted strong effects of crop establishment and crop soil cover on crop competitiveness. More accurate knowledge is needed before this system can be adopted by more farmers and this study leads to other trials that will benefit from the experience gained in management of living mulch system complexity.
De plus en plus d'agriculteurs pratiquant la réduction du travail du sol s'intéressent à la mise en place de systèmes intégrant une légumineuse pérenne. Cette plante de service couvre le sol sous certaines cultures de la rotation. Elle peut aider à contrôler les adventices, améliorer la structure du sol ou encore apporter de l'azote. Les couverts peuvent exercer une forte compétition ou au contraire améliorer les conditions de développement de la culture. Ce mémoire synthétise les connaissances sur les relations de compétition et de facilitation pour les principales ressources (eau, azote et lumière) en exposant les mécanismes qui ont un impact sur le rendement de la culture associée. S'il est clair que les caractéristiques du couvert déterminent sa complémentarité avec la culture dans le temps et dans l'espace, l'analyse de deux essais mettant en oeuvre un blé tendre d'hiver, dans des situations contrastées, illustre que la densité de peuplement de la culture est un des premiers facteurs qui conditionnent sa compétitivité sur le couvert l'association. Ceci confirme que le second point critique est l'ajustement du fin équilibre entre les espèces : la qualité de l'implantation et les interventions en cours de culture doivent maintenir les bénéfices apportés par le couvert. L'accumulation de références permettra la diffusion de ce système à un plus grand nombre d'agriculteurs lorsqu'il sera suffisamment maîtrisé.
Fichier principal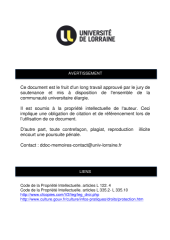 BUS_M_2014_CARTON_NICOLAS.pdf (1.86 Mo)
Télécharger le fichier
Origin : Files produced by the author(s)