Détermination des limites pédoclimatiques du châtaignier dans le Haut-Languedoc - Construction d'un outil d'aide à la décision pour l'adaptation de la sylviculture
The Regional Natural Park of Haut-Languedoc leads the creation of a pedo-climatic atlas of stations and forest species in the territory in collaboration with other actors. This atlas is considering establishing the ecological niche of the main species of the Park and the construction of models of station's convenience. This tool will allow managers and forest owners to adapt future forestry and reforestations in a scenario of changing climate. Here the treated specie was chestnut, a tree with strong economic and cultural issues in the region, producing a great appreciated wood. The opportunities for the chestnut's industry development are very interesting. The main results of this work are the establishment of the ecological and climate more conducive situations to chestnut, a clear link between climate and the health conditions of the stands and the construction of a model to predict the risk wasting depending on climatic parameters and the topographic position of the stands.
Le Parc naturel régional du Haut-Languedoc mène la création d'un atlas pédoclimatique des stations et des essences forestières du territoire en collaboration avec les autres acteurs de la forêt. Cet atlas envisage d'établir la niche écologique des principales essences du Parc et la construction de modèles de prédiction des stations favorables. Cet outil permettra aux gestionnaires et aux propriétaires forestiers d'adapter la sylviculture à venir ainsi que les reboisements dans un scénario de climat changeant. Ici, l'essence traitée a été le châtaignier, un arbre à fort enjeu économique et culturel dans la région, produisant un bois noble et apprécié. Les possibilités de développement de la filière châtaignier sont donc très intéressantes. Les principaux résultats de ce travail sont l'établissement de la niche climatique et écologique la plus propice au châtaignier, d'un lien net entre les conditions climatiques et l'état sanitaire des peuplements ainsi que la construction d'un modèle permettant de prédire le risque de dépérissement en fonction des paramètres climatiques et de la position topographique des peuplements.
Fichier principal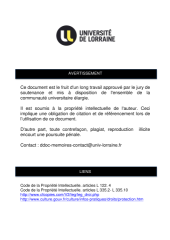 BUS_M_2014_GARCIA-COLLADO_ANTONIO.pdf (6.35 Mo)
Télécharger le fichier
Origin : Files produced by the author(s)