Identifying and preserving old-growth attributes in mixed forest stands dominated by yellow birch (Betula alleghaniensis) and balsam fir (Abies balsamea) in the context of ecosystem management in Québec
The conservation of old-growth elements in managed forest is an important aim of the ecosystem management in Québec. This work focus on their representation in yellow birch (Betula alleghaniensis) and balsam fir (Abies balsamea) stands of the mixed forest domain. We studied two experimental sites, one dominated by yellow birch and the other by balsam fir, where was estimated the effect of different forest treatments on oldgrowth characteristics. Our method shows the possibility to represent them with a small number of parameters, mainly dendrometric. Continuous cover treatments seems to be the most interesting systems for the conservation of these elements. However, our study raised the lack of information concerning old-growth stands in mixed forest. Yet, these data are essential for a relevant application of the ecosystem management. For this reason, further researches on this subject are necessary.
La conservation d'éléments propres aux forêts anciennes dans les peuplement aménagés est un enjeux important de l'aménagement écosystémique au Québec. Cette s'étude s'est principalement intéressée à leur expression dans les peuplements de bouleau jaune (Betula alleghaniensis) et de sapin baumier (Abies balsamea) dans le domaine de la forêt mixte. Pour cela, nous avons travaillé sur deux sites d'expérimentation, l'un dominé par le bouleau jaune et le second par le sapin baumier, visant à estimer l'effet de différents traitements forestiers sur les caractéristiques de vieilles forêts. Notre méthode montre qu'il est possible de les représenter en se basant sur un nombre réduits de paramètres, essentiellement dendrométriques. Les itinéraires de gestion sylvicole à couvert continu apparaissent alors comme les systèmes les plus adaptés à leur conservation. Notre étude a cependant mis en évidence le manque d'informations disponible sur les vieux peuplements du domaine de la forêt mixte. Ces données sont pourtant essentielles pour la réalisation concrète de l'aménagement écosystémique. De nouvelles recherches sur ces écosystèmes sont donc nécessaires.
Fichier principal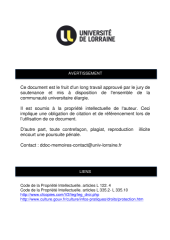 BUS_M_2014_MARTIN_MAXENCE.pdf (859.55 Ko)
Télécharger le fichier
Origin : Files produced by the author(s)