Influence de la distance aux bandes fleuries sur la consommation de nectar et le contrôle du puceron par le parasitoïde Diaeretiella rapae en parcelle de colza
Nectar provisioning by flowering field margins provides food subsidies and contributes to enhance biological control by natural enemies. Sugar resources can improve parasitoids fitness but it is difficult to track their consumption in agricultural fields. We developed a new 13C isotope enrichment method for Centaurea cyanus extra-floral nectar labeling, allowing us to identify, among parasitoids captured at several distances from flowering margins, those which fed with marked nectar. The influence of the distance from flowering margins on insects diversity in crop, on the number of Diaeretiella rapae parasitoids fed with border's nectar, and on Brevicoryne brassicae aphids infestation was investigated in rapeseed production fields. We found no evidence of how flowering field margins can enhance natural pest control but we captured marked parasitoids up to 20 meters in field. Our results show the efficiency and interest of the developed method for insects nectar consumption tracking in agro-ecosystems.
L'implantation en bordure de parcelle de ressources nutritives pour les ennemis naturels, sous la forme de bandes fleuries, présente un grand intérêt pour la lutte biologique contre les ravageurs des cultures. Les ressources sucrées améliorent la fitness des parasitoïdes, mais il est difficile de suivre leur consommation en milieu agricole. Dans cette étude nous avons développé une méthode inédite d'enrichissement isotopique en 13C par Cotton-wick, adapté au marquage du nectar extra-floral du bleuet Centaurea cyanus, afin de pouvoir identifier, parmi les parasitoïdes capturés à différentes distances de la bande fleurie, ceux qui ont consommé du nectar marqué. Nous avons ainsi étudié en parcelles de colza l'influence de la distance aux bandes fleuries sur la diversité des insectes capturés dans la parcelle, sur la proportion de parasitoïdes Diaeretiella rapae ayant consommé du nectar en bordure, et sur l'infestation du puceron Brevicoryne brassicae. Nous n'avons pas pu conclure quant à l'intérêt des bandes fleuries pour le contrôle du ravageur, mais nous avons capturé dans la parcelle des parasitoïde marqués jusqu'à 20 mètres de la bordure. Nos résultats prouvent donc l'efficacité et l'intérêt de la méthode développée pour le suivi de la consommation du nectar par les insectes dans les agro-écosystèmes.
Fichier principal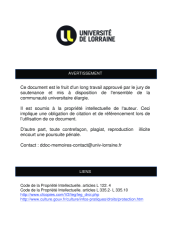 BUS_M_2014_DOSDAT_SIMON.pdf (1.49 Mo)
Télécharger le fichier
Origin : Files produced by the author(s)