Influence des conditions de traitement d'échantillons de bioaérosols sur les résultats de dosage des (1,3)-bêta-D-glucanes
(1,3)-bêta-D-glucanes are glucose polymers connected with (1,3) linkage. They can adopt different conformations: linear, circular or branched. They are the major component of fungi cell wall but also found in some plants or bacteria. Glucan airborne exposure can be associated with upper airway inflammation or atopy. This kind of biopolymers can be assayed using the LAL method. Influence of six treatments on the assay has been tested (untreated, cell grinding, autoclaving, sonication, alkalin treatment and Tween 80 treatment). We used two cell suspension models; S. cerevisiae and P. brevicompactum; and three pure glucans models; glucans from barley, laminarin and schizophyllan). The most efficient treatment was cell grinding in addition to Tween 80 treatment. Additional tests will be performed to optimize these treatments. For good practice, each material has to be decontaminated using sonication in ethanol for two hours.
Les (1,3)-bêta-D-glucanes sont des polymères de glucoses reliés par des liaisons (1,3). Ils peuvent être linéaire, ramifiés ou cycliques et proviennent des levures, moisissures, autres champignons, des plantes ou de certaines bactéries. Les glucanes sont présents dans les bioaérosols et provoquent différents symptômes (irritation des voies aériennes supérieures, atopie…) lorsqu'ils sont inhalés par le travailleur exposés. Ces polymères peuvent être dosés par la méthode au LAL. L'influence de six traitements sur le dosage des (1,3)-bêta-D-glucanes par la méthode au LAL ont été testés (sans traitement, broyage cellulaire, autoclavage, sonication, traitement alcalin et traitement au Tween) sur deux suspensions cellulaires (S. cerevisiae, P. brevicompactum) et trois solutions de glucanes purs en poudre (glucanes de l'orge, laminarine, schizophyllan). Parmi ces traitements, le broyage cellulaire est le plus efficace d'autant plus s'il est suivi d'un traitement au Tween. Des essais complémentaires seront réalisés pour optimiser ces traitements. Avant chaque mesure, le matériel doit obligatoirement être décontaminé par sonication dans l'éthanol pendant deux heures.
Fichier principal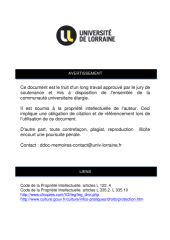 BUS_M_2014_DEGOIS_JODELLE.pdf (1.77 Mo)
Télécharger le fichier
Origin : Files produced by the author(s)