Le rôle sociétal du sport en France. Le sport peut-il être l'incubateur de valeurs citoyennes ? (le cas de la Moselle)
Nowadays, it appears that sport would be a great civic values learning tool. In this report are presented the changes in the societal role of sport in France by a short historical part. The second part shows the organization and interactions that connect the various sport actors together, including through the establishment of departmental guidelines and the convention of objectives signed between the government and the sports movement. Then this report is focused on departmental and local levels to see how the institutional order takes place on the ground. The Moselle department is taken as an example by describing the a Moselle Sports Citoyen action, the project that led for a period of 6 months. This report aims to evaluate the relevance of using sport to educate the citizens of tomorrow and make proposals to improve the local structure.
Aujourd'hui, il apparait que le sport serait un formidable outil d'apprentissage des valeurs citoyennes. Dans ce mémoire il est exposé l'évolution du rôle sociétale du sport en France par un rapide passage historique. La deuxième partie présente l'organisation et les interactions qui relient les différents acteurs du sport entre eux, notamment par la mise en place des orientations ministérielles et de la convention d'objectif signé entre l'Etat et le mouvement sportif. Ensuite, ce mémoire se concentre sur les niveaux départemental et local afin de voir comment la commande institutionnelle est mise en place sur le terrain. Le département de la Moselle est pris en exemple par la description de l'action Moselle Sport Citoyen dont j'ai été le chef de projet le temps d'un stage de 6 mois. Ce mémoire vise à évaluer la pertinence de l'utilisation du sport comme formateur du citoyen de demain et à formuler des propositions d'amélioration du dispositif local.
Fichier principal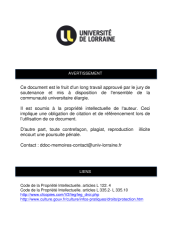 BUS_M_2014_SCHMITT_MATHIEU.pdf (2.77 Mo)
Télécharger le fichier
Origin : Files produced by the author(s)