Pouvoirs d'action des intercommunalités dans le champ du développement durable : diversifications ou uniformisation des politiques ? Quelles difficultés ? Quelle implication et quelle place pour les habitants et la recherche ?
This thesis consists in the analysis of a topic related to a professional practice in the context of a year end training. The first part of this thesis contains a description of the training frame intended to analyze its structure and the different related missions. A problematic is then defined in relation to these missions to understand the concepts surrounding its different elements. The theoretical framework is discussed in the subsequent sections including a methodology section. This last section reports not only on the methodology used to conduct the analysis but also on the means used. Coming to the analysis itself, it focuses on the policies and the sustainable development actions implemented in some areas of North Lorraine, trying to see if these policies are different depending on the region or not. It is also intended to identify the various challenges faced by these areas and to analyze them. A special attention has been devoted to the place of the citizen in these policies and actions, as well as to the measures which have been put in place to involve him. This year end training is a research training, a part of the analysis is devoted to the importance of research in the field of sustainable development. Finally, the thesis will conclude with a list of recommendations, which will address the elements designed as means for improving the situations and challenges highlighted earlier.
Ce mémoire consiste à analyser un sujet lié à une pratique professionnelle, dans le cadre d'un stage de fin d'année. Pour cela, le mémoire contiendra tout d'abord une partie cadre réel, destinée à l'analyse de la structure de stage et des missions effectuées. Une problématique est ensuite définie, en lien avec ces missions, avant que le cadre théorique ne soit abordé, pour prendre connaissance des notions entourant les éléments de la problématique. La partie méthodologie rendra compte de la méthode employée pour mener cette analyse et des moyens utilisés. L'analyse s'intéresse ensuite aux politiques et actions de développement durable mises en place dans quelques territoires du Nord lorrain, et essaye de voir si ces politiques sont différentes selon les territoires ou pas. Il s'agit également de recenser les différentes difficultés rencontrées par ces territoires, les analyser. Le travail présenté s'est également porté sur la place qu'occupe l'habitant dans ces politiques et actions, et aux moyens mis en place pour l'impliquer. Le stage effectué étant un stage de recherche, une partie de l'analyse est consacrée à l'importance de la recherche dans le domaine du développement durable. Enfin, le mémoire s'achèvera avec une partie préconisations, où seront abordés les éléments pensés comme pouvant permettre d'améliorer les situations et difficultés mises en avant plus tôt.
Fichier principal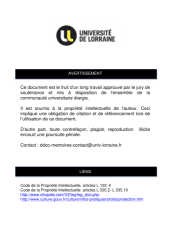 BUS_M_2014_STENGER_PIERRE.pdf (774.41 Ko)
Télécharger le fichier
Origin : Files produced by the author(s)