Diagnostic de l'état physique des milieux récepteurs des rejets des systèmes d'assainissement - Commune de Xirocourt
Since 2010, a characterization of the receiving waters of discharges from wastewater systems should be performed as a preliminary to studies of sanitation. BEPG has been in charge of making the diagnosis of the physical state of the receiving waters of the Commune of Xirocourt. The diagnosis of the watercourses has detected the presence of numerous dysfunctions: watering hole directly into the bed of the river, erosion of the bank, lack of riparian vegetation... In order to preserve the environment, the propositions of work have been performed: - On the whole: limit livestock access to watercourses, restoring the riparian forest, improve flow, and ensure continuity ecological... - In connection with the work of sanitation: diversification of vegetation, introduction of wires fences and waters troughs, creating a shock-absorbing area vegetal? These proposals respond to the problems identified during the diagnosis and they must achieve the objectives of preservation, restoration of physical-chemical, ecological and landscape of watercourses.
Desde 2010, una caracterización de los medios receptores de saneamiento debe ser realizada como etapa previa a cualquier estudio de saneamiento BEPG, ha sido el encargado de realizar el diagnostico del estado físico de los medios receptores de la Comuna de Xirocourt. El diagnostico sobre los cursos de agua ha constatado la presencia de numerosas disfuncionalidades: zonas de abrevadero directas en los cursos de agua, erosión en los márgenes, ausencia de vegetación.... Con el fin de preservar el medio se ha realizado una proposición de trabajos: - De manera global: limitar el acceso del ganado a los cursos de agua, revegetalizar las orillas, mejorar los flujos, asegurar la continuidad ecológica,? - En relación con los trabajos de saneamiento: diversificación de la vegetación, introducción de alambradas y de abrevaderos, creación de una zona vegetalizada con función filtrante y amortiguadora de sustancias,? Estas proposiciones responden a las problemáticas identificadas durante el diagnostico y alcanzan los objetivos de preservación, restauración de la calidad físico-química, ecológica y paisajística de los cursos de agua.
Depuis 2010, une caractérisation des milieux récepteurs des rejets des systèmes d'assainissement doit être réalisée comme étape préalable aux études d'assainissement. BEPG a été chargée de réaliser le diagnostic de l'état physique des milieux récepteurs de la commune de Xirocourt. Le diagnostic du cours d'eau a révélé la présence de nombreux dysfonctionnements : sites d'abreuvage directement dans le lit du cours d'eau, érosion des berges, absence de ripisylve... Pour la préservation des milieux, des propositions de pistes d'actions ont été réalisée : - De manière globale : en limitant l'accès du cours d'eau aux bovins, en reconstituant une ripisylve diversifiée, en améliorant les écoulements, en assurant la continuité écologique? - En relation avec le programme d'assainissement : en diversifiant la ripisylve, en mettant en place des clôtures et des abreuvoirs et en créant une zone de rejet végétalisé (ZRV). Ces propositions répondent aux problématiques identifiées lors du diagnostic et atteignent les objectifs de préservation, voire de restauration de la qualité physico-chimique, écologique et paysagère du cours d'eau.
Fichier principal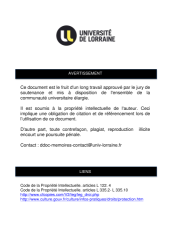 BUS_M_2012_JIMENEZ-GAMEZ_SILVANA.pdf (17.31 Mo)
Télécharger le fichier
Origin : Files produced by the author(s)