Trame Verte et Bleue en Lorraine : territoires du SCoT de l'Agglomération Messine et de Metz Métropole
The increasing habitat fragmentation in SCoT Messine Agglomeration and Metz Métropole and the changes in land use and environmental destruction have awakened the desire to preserve biodiversity. The creation of a Green and Blue Infrastructure (GBI) has determined by law "Grenelle de l'Environnement 2009", in the future will be part of the panaeuropean ecological network. The GBI in the study area aims: to study in detail (1:5 000) the sub-networks forest and prairie in SCoTAM and the sub-networks arboreal, fort, urban, thermophile and higrophile in Metz Métropole; identify opportunities, threats and states of degradation of biodiversity for each sub-networks; develop recommendations management for territory. The methodology used to map the sub-networks is based on the compilation and processing of geographic data using GIS. It has taken an inventory in various sites, with the aim of a better definition of each environment. For storage, management and production data have been developed different databases. The methodology applied has highlighted numerous limits. Until we are completed phases of the studies, are not definitive results to make a critical analysis of the methodology used.
El aumento de la fragmentación de hábitats a escala de SCoT de la Aglomeración Mesina y de Metz Métropole, así como los cambios de ocupación de suelo y la destrucción de medios naturales, han despertado el interés de preservar la biodiversidad. Se ha puesto en marcha un corredor ecológico impulsado por la Ley "Grenelle de l'Environnement 2009", y en el futuro formara parte de la red ecológica panaeuropea. Los objetivos del estudio son: identificar a una precisión de 1:5 000 los corredores forestales y de prados y praderas, en SCoTAM y los corredores arborícolas, fuertes militares, urbanos, termófilos e higrófilos para Metz Métropole; determinar las oportunidades, amenazas y estados de degradación de la biodiversidad para cada corredor; elaborar recomendaciones de ordenación, planificación y gestión del territorio. La metodología utilizada para cartografiar los corredores se ha basado en la compilación y tratamiento de datos geográficos mediante un SIG. Se ha llevado a cabo un muestreo de campo en diferentes zonas representativas, con el objetivo de mejorar la definición de cada medio. Para almacenar, gestionar y producir datos de modo formalizado, se han construido diferentes bases de datos. Por el momento, el análisis crítico sobre la metodología utilizada es reducido, debido a que existen fases del estudio en curso y por tanto, los resultados obtenidos hasta la fecha no son los definitivos. Aun así, se han puesto de manifiesto numerosos límites metodológicos.
L'augmentation de la fragmentation des habitats à l'échelle du SCoT de l'Agglomération Messine et de Metz Métropole, les changements d'occupation des terres et la destruction des milieux à caractère naturel, ont éveillé la volonté de préserver la biodiversité. Ceci à travers la réalisation d'une Trame Verte et Bleue (TVB) impulsée par la Loi Grenelle de l'Environnement 2009 et future composante du réseau écologique paneuropéen. La TVB à l'échelle du territoire d'étude a pour objectifs d'approfondir (1/5 000ème) la connaissance des sous-trames forestière et prairiale concernant le SCoTAM et les sous-trames arboricole, des forts, urbaine, thermophile et hygrophile concernant Metz Métropole ; de déterminer des potentialités, menaces, dégradations de la biodiversité pour ces soustrames ; d'élaborer des préconisations d'aménagement et de gestion. La méthodologie utilisée pour cartographier les sous-trames a été établie par le recueil et le traitement de données géographiques sous SIG. Une expertise de terrain a été réalisée dans l'objectif de préciser les connaissances sur chaque type de milieu à partir de sites représentatifs. Pour stocker, gérer et produire ces données une base de données locale a été créée. La méthodologie mise en oeuvre présente diverses limites, la finalisation des phases de l'étude devrait permettre l'obtention de résultats plus précis.
Fichier principal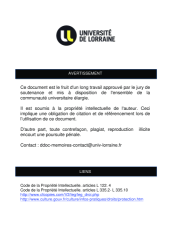 BUS_M_2012_BEJAR-GONZALEZ_ANTONIO.pdf (5.44 Mo)
Télécharger le fichier
Origin : Files produced by the author(s)