Conception et mise en oeuvre d'un service d'activités physiques adaptées pour le comité 54 de la Ligue contre le cancer
Physical inactivity continues to increase in France and is turning into a public health issue as the cancerous pathology which, despite a lower death-rate, has been growing for 25 years. Yet, it has been demonstrated that practicing a physical activity can improve the quality of life of sick people. That is the reason why the League against cancer has initiated a project in order to make these practices more accessible to people diagnosed with cancer in Meurthe-et-Moselle. In the short-term, this project consists in implementing soft exercises of physical education for Cancer patients. In the mid-term, it would also help establishing privileged relationships between communication managers in hospital institutions and the Comity of the region 54. Finally, in the long-term, the purpose is to train doctors and health care workers to APA so that they can inform, advise and guide their patients towards activities that are adapted to their health conditions. The purpose of this Master thesis is to define the different steps that are required to implement and develop the APA in a structure such as the League against cancer.
L'inactivité physique ne cesse d'augmenter en France et devient un problème de santé publique, comme la pathologie cancéreuse, qui malgré un taux de mortalité plus faible, ne cesse d'augmenter depuis 25 ans. Or les relations entre la pratique d'une activité physique adaptée et une amélioration de la qualité de vie des personnes malades ne sont plus à démontrer. C'est pourquoi la Ligue contre le cancer a entrepris le projet de favoriser l'accès de ces pratiques aux personnes atteintes d'un cancer en Meurthe et Moselle. Ce projet se compose d'un objectif à court terme qui est de mettre en place des séances de gymnastique douce pour la population ciblée, un objectif à moyen terme qui est d'établir des relations privilégiées entre les chargés de communication des établissements hospitaliers et le comité 54. Enfin à long terme, l'enjeu est de former les médecins et le personnel soignant des hôpitaux sur les APA afin qu'ils soient en mesure d'informer, de conseiller et d'orienter leurs patients vers une pratique adaptée à leur état de santé. Le but de ce mémoire est de définir les différentes étapes nécessaires pour l'implantation et le développement des APA dans une structure telle que la Ligue contre le cancer.
Fichier principal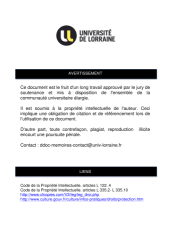 BUS_M_2012_JOCHUM_SOPHIE.pdf (4.68 Mo)
Télécharger le fichier
Origin : Files produced by the author(s)