Pistes de réflexion pour une continuité de la pratique d'activités physiques et sportives en association du public féminin en difficulté financière et/ou sociale issu des dispositifs « Sport et Insertion » et « Sport pour Toutes » du Conseil Général de Meurthe-et-Moselle
Despite the political will of the French Ministry of Sports to set up a strategy promoting the development of sport practice for everyone and more particularly for people with social and/or financial problems, access to sporting activities remains difficult for these people and especially for women. The obstacles to sport and physical practice can be cultural, social, financial and material. By asserting the role of sport as a factor of social solidarity and by working on the accessibility to sporting activities for everyone and particularly for those with financial and/or social difficulties, the Conseil Général of Meurthe-et-Moselle promotes the access to sport activities for disadvantaged adults through two schemes in partnership with the Comité Départemental Olympique et Sportif 54: "Sport and Integration" and "Sport for Every Woman". The global objective of these two schemes is to improve the life of the people involved in them through the pursuit of well-being. In the medium term, the goal is the integration of these people into a sport association or a club. However, after the end of the schemes, the practice of sport activities stops. Several reasons can explain it. This dissertation presents the context which supports our reflection and the experience and feelings of the different actors concerned by this situation coming from the sports community (from the local authorities and sport associations) and the local and neighbourhood associations (from Youth and Culture Centres and social centres). It also suggests possible lines of approach for the Conseil Général of Meurthe-et-Moselle and the structures offering sport and physical activities to facilitate their accessibility in association with the women involved in the two schemes.
Malgré une volonté politique du ministère des Sports de mettre en place une stratégie visant à promouvoir le développement de la pratique sportive pour tous les publics notamment les publics en situation de précarité sociale et/ou financière, force est de constater qu'il est difficile pour ces personnes et en particulier les femmes, d'avoir accès à cette pratique. Les freins à la pratique sont d'ordres culturels, sociaux, économiques et matériels. En affirmant le rôle du sport comme facteur de solidarité et en oeuvrant à l'accessibilité de tous les publics à l'offre sportive et particulièrement aux publics fragilisés financièrement et/ou socialement, le conseil général de Meurthe-et-Moselle favorise l'accès à la pratique des adultes en difficulté à travers deux dispositifs « Sport et Insertion » et « Sport pour Toutes » qu'il supporte en partenariat avec le Comité Départemental Olympique et Sportif 54. Ces deux dispositifs s'inscrivent dans un objectif global d'amélioration de la qualité de vie des bénéficiaires à travers la recherche d'un bien-être. L'objectif est, à moyen terme, pour ce public d'intégrer une association sportive ou un club. Cependant, il y a une rupture de la pratique sportive après les dispositifs. Plusieurs raisons peuvent l'expliquer. Ce mémoire présente le contexte dans lequel s'inscrit notre réflexion et les ressentis des différents acteurs concernés par ce constat issus du mouvement sportif (avec les comités départementaux et les associations sportives) et des associations de quartier (avec les MJC et les centres sociaux), ainsi que des propositions de pistes de réflexion pour le conseil général de Meurthe-et-Moselle et les entités proposant une offre d'APS dans l'objectif de faciliter l'accueil et l'intégration en association des femmes issues des dispositifs.
Fichier principal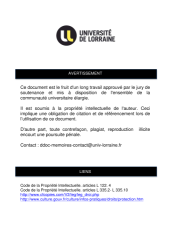 BUS_M_2012_COLAUTTI_MELANIE.pdf (5.86 Mo)
Télécharger le fichier
Origin : Files produced by the author(s)