Dépollution de sols contaminés par des hydrocarbures aromatiques polycycliques
The high reactivity of certain mineral phases (clays, iron oxides ...) can be used to catalyze the degradation or stabilization of organic contaminants (including hydrocarbons) in the context of low-temperature oxidation. To put this into evidence, the air oxidation experiments were carried out for 5 months at two temperatures (60° and 100° C) in the laboratory with three mineral matrices: two of them considered as reactive (goethite, smectite) and one as reference (sand). Two complementary methods were applied: (i) simple: Doping mineral phases only by organic extracts from coking soils (Homécourt and Neuves Maisons), (ii) complex: a mixture of mineral phases with the raw coking soils (Homécourt and Neuves Maisons) associating the organic extract, non-extractable organic fraction and mineral fraction of the soil. The results presented in this report suggest that (i) for the simple system, the reduction of the organic extract (including PAH) is mainly due to their incorporation into the reactive solid matrices (goethite and smectite), but oxygenated polycyclic aromatic compounds (O-PAC) are generated, (ii) for the complex: the reductions of the contents of extract and PAH are significant (up to 80% reduction in the amount of extract and 95% of PAH). Moreover, unlike the doping experiments, the O-PAC decreases also.
La forte réactivité de certaines phases minérales (argiles, oxydes de fer...) peut permettre de catalyser la dégradation ou la stabilisation de contaminations organiques (notamment les hydrocarbures) en contexte d'oxydation basse température. Pour mettre cela en évidence, des expériences d'oxydation à l'air ont été réalisées pendant 5 mois à deux températures (60° et 100°C), au laboratoire avec trois matrices minérales : deux réactives (goethite, smectite) et une considérée comme référence (sable). Deux modalités complémentaires ont été appliquées : (i) système simple : dopage des phases minérales par les seuls extraits organiques issus de terre de cokerie (Homécourt et Neuves Maisons), (ii) système complexe : mélange des phases minérales avec les terres brutes de cokerie (Homécourt et Neuves Maisons) associant l'extrait organique, la fraction organique non extractible et la fraction minérale de la terre. Les résultats présentés dans ce rapport suggèrent que (i) pour le système simple, l'abattement de l'extrait organique (incluant les HAP) est essentiellement liée à leur incorporation dans les matrices solides réactives (goethite et smectite) mais des composés aromatiques polycycliques oxygénés (CAP-O) sont générés, (ii) pour le système complexe : les abattements de la teneur en extrait et en HAP sont plus forts (jusqu'à 80% de diminution de la teneur en extrait et 95% de teneur en HAP). De plus, contrairement aux expériences de dopage, les CAP-O diminuent également.
Fichier principal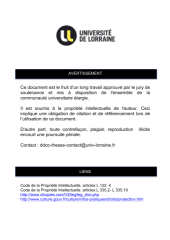 SCDSCI_M_2011_KOUADIO_OLIVIER.pdf (1.8 Mo)
Télécharger le fichier
Origin : Files produced by the author(s)