Diagnostic territorial et proposition d'un plan d'action du « Sport Senior » à l'UFOLEP des Alpes Maritimes
The benefits of physical activity on seniors? health has been widely proved. As a consequence, the strategies of promoting a good health thanks to physical activity for this specific public represent a significant stake in the actual context of a population growing older and older. The UFOLEP (the French Union of State Work for Physical Education) is in keeping with this general process. It clearly wishes to develop and boost physical activities in favor of this "senior" public as it is called. Thus the object of this study was to work out a territorial diagnosis on sport and seniors and more precisely on the territory of the city of Nice in order to suggest a developing strategy and a plan of action on sport for the seniors at the UFOLEP. Following the accomplishment of this diagnosis as well as the analysis which ensues, some differences emerge. Indeed, there are differences between what the UFOLEP offers and what the seniors want and need. That is why the UFOLEP has to take those needs into account more seriously. It also has to privilege the following main lines of development: the predisposition of an internal and external point of view, the development and the diversification of practices as well as training.
Les bienfaits de l'activité physique sur la santé des seniors étant largement démontrés, les stratégies de promotion de la santé par l'activité physique pour ce public représentent un enjeu de taille dans le contexte actuel de vieillissement de la population. L'UFOLEP (Union Française des OEuvres Laïques pour l'Education Physique) s'inscrit dans cette démarche et souhaite développer et favoriser les activités physiques et sportives en faveur du public dit « senior ». Ainsi l'objet de cette étude était d'élaborer un diagnostic territorial sur le sport et les seniors et plus précisément sur le territoire de la ville de Nice afin de proposer une stratégie de développement et un plan d'action du sport pour les seniors à l'UFOLEP. Suite à la réalisation de ce diagnostic ainsi qu'à l'analyse qui en découle, il apparaît certains décalages entre l'offre proposée à l'UFOLEP et les attentes et besoins du public seniors. C?est pourquoi il s'agit pour l'UFOLEP de prendre davantage en compte ces besoins et de privilégier les axes de développement suivants : la prévention d'un point de vue interne et externe, le développement et la diversification des pratiques ainsi que la formation.
Fichier principal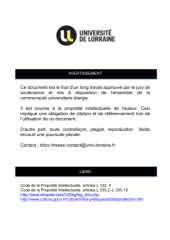 SCDSCI_M_2011_RUTTKOWSKI_AURELIE.pdf (2.48 Mo)
Télécharger le fichier
Origin : Files produced by the author(s)