Le droit de prescription des sages-femmes : son évolution, ses règles et ses exigences : réalisation d'une enquête à la Maternité régionale de Nancy
The beginning of the XXI st century is a very important peried concerning the improvement of the rights of the midwives. Indied, two laws were voted between 2004 and 2006. The tirst one deals with the prescription of medicines and the second one is the tirst edict voted on the medical devices. A good prescription needs sorne basic rules. Knowing the way of the prescription allows a better understanding of the need of these rules, as well in chemist' s dispensing as in dispensary. Took as an example of dispensary, we have chosen to work with the regional maternity hospital of Nancy. Where, the obstetricians from different sectors have been contacted to answer to a questionnaire concerning their rights of prescription.
Le début du XXlème siècle est un tournant pour l'élargissement du droit des sages-femmes. Effectivement deux lois sur la prescription des médicaments et un premier décret sur les dispositifs médicaux sont votés entre 2004 et 2006. Une bonne prescription nécessite quelques règles de bases. Le parcours de l'ordonnance permet de mieux comprendre l'utilité de ces règles, tant en pharmacie d'officine libérale qu'en pharmacie à usage interne. Comme exemple de pharmacie hospitalière nous prenons la M.R.A.P., les sages-femmes des différents secteurs ayant été sollicitées pour répondre à un questionnaire concernant leur droit de prescription.
Fichier principal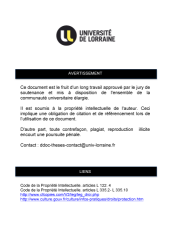 SCDMED_MESF_2007_JOLIVALT_MARIE_ANNE.pdf (3.33 Mo)
Télécharger le fichier
Origin : Files produced by the author(s)