Home blood pressure measurement to control blood pressure : a long and winding road !
L'automesure tensionnelle au secours du contrôle de l'hypertension en médecine générale : que de chemin à parcourir : les médecins sceptiques à une utilisation régulière
Objectifs : Explorer la perception de l'utilisation de l'automesure tensionnelle (AMT) par les médecins généralistes (MG) en pratique courante afin d'identifier les bénéfices ressentis et les facteurs limitant son implémentation en pratique journalière. Méthode : Etude qualitative réalisée sous forme de 6 focus groupes entre octobre 2016 et février 2017 réunissant 41 médecins généralistes lorrains exerçant en cabinet de soins primaires, avec analyse thématique du contenu de type compréhensif. Résultats : Une grande variabilité des pratiques a été constatée, du fait de connaissances insuffisantes sur les règles d'utilisation de l'AMT et des objectifs tensionnels ainsi que d'une adhésion aux recommandations médiocre. L'autonomisation du patient et l'application rigoureuse de lignes directrices étaient perçues comme une atteinte à leur pouvoir médical et à leur liberté d'exercice. Pour justifier leur manque d'appropriation de l'AMT, les MG avançaient un manque de temps, de moyens matériels et humains qu'ils attribuaient au manque d'implication du système de santé et qu'ils ne compensaient pas toujours par la mise en place de stratégies organisationnelles. L'inobservance thérapeutique des patients et l'inertie thérapeutique des MG ont été identifiées comme des barrières à un contrôle tensionnel optimal dont un des axes d'amélioration était une utilisation systématique de l'AMT associée à une éducation thérapeutique patient. Conclusion : Afin d'améliorer l'implémentation de l'AMT en pratique quotidienne, il apparait nécessaire de miser sur la formation des MG et l'éducation des patients. Il faut également en finir avec le « pouvoir médical » dans la prise en charge de l'HTA et se tourner vers une prise en charge pluridisciplinaire incluant infirmier, pharmacien et patient.
Fichier principal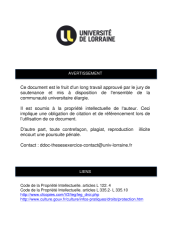 BUMED_T_2017_DESSE_LOUISE.pdf (1.45 Mo)
Télécharger le fichier
Origin : Files produced by the author(s)