Immune-Mediated Necrotizing Myopathy with anti-signal recognition particle antibodies : "Inflammatory Myopathy with anti-SRP in French Cross-Sectional Study ENDeMyoS" - Case series of 147 patients.
Myopathies nécrosantes auto-immunes à anti-SRP : enquête nationales descriptive endemyos
Introduction : Les myopathies nécrosantes à médiation immune sont bien individualisées depuis un consensus d'expert de 2003 alors que les anticorps spécifiques de myosite sont des marqueurs sérologiques importants pour le diagnostic et le pronostic des myopathies inflammatoires idiopathiques. L'objectif principal est l'analyse des caractéristiques cliniques et paracliniques associées à la présence des anticorps anti-SRP ainsi que la réponse au traitement par la constitution d'une cohorte nationale française. Matériels et méthodes : Il s'agit d'une étude observationnelle française de type rétrospective et multicentrique avec analyse comparative. Les données cliniques et paracliniques étaient obtenues à partir d'appels à observations par le biais des sociétés savantes concernant des patients adultes avec anticorps anti-SRP et l'association d'atteintes cliniques compatibles. L'analyse statistique consistait en une première phase descriptive (distribution et fréquence des caractéristiques) puis une étude étiologique (facteurs de risque, protecteurs) en sous-groupes. Résultats : Nous avons analysé les caractéristiques de 147 patients avec anti-SRP. Le sexe-ratio est de 1,41 femmes pour un homme avec un âge moyen au début des symptômes de 46,6 ± 1,5 ans. L'atteinte musculaire est présente dans 85,7% des cas et survient à tout âge. La myopathie à anti-SRP impose souvent un délai de 32,5 ± 5,0 mois avec une médiane à 8,4 mois avant que le diagnostic ne soit établi. La maladie a une progression rapide et cause une incapacité sévère évaluée par le score de Rankin modifié. Il s'y associe des signes généraux marqués comme un amaigrissement dans 38,8% des cas. Il est fréquemment noté une dysphagie (38,8%) et des myalgies (67,3%). Le déficit moteur, les myalgies et l'amyotrophie prédominent habituellement aux membres inférieurs avec une atteinte symétrique et proximale. Les taux de CPK sont très élevés à 6754 ± 640 UI/L. La biopsie musculaire objective un aspect de nécrose des fibres musculaires (84,8%) avec un infiltrat inflammatoire (42,4%) et dépôt de complexe d'attaque membranaire C5b9 (59,7%). Si une atteinte cardiaque est fréquente (49,7%), elle est rarement sévère. La prévalence de pneumopathies infiltratives est estimée à 37% avec dyspnée de stade NYHA IV pour 14,9% des patients. Une atteinte dermatologique est retrouvée dans 18,4% des cas avec tout particulièrement des symptômes cutanés de dermatomyosite. Il ne semble pas y avoir d'association aux néoplasies alors que les maladies auto-immunes sont retrouvées dans 32,7% des cas de type dysthyroïdies dysimmunitaires (9,5%), syndrome de Sjögren (5,4%), lupus érythémateux systémique (4,8%), ou sclérodermie systémique (4,8%). De plus, il ne semble pas y avoir d'association avec les traitements myotoxiques potentiellement inducteurs. La maladie est fréquemment corticorésistante et l'évolution émaillée de rechutes fréquentes. Le méthotrexate (57,1%) et l'azathioprine (29,3%) sont les immunosuppresseurs de choix alors que les immunoglobulines polyvalentes par voie intraveineuse (IgIV) ou encore le rituximab sont proposés en cas d'échec. Conclusion : Les anticorps anti-SRP peuvent être utiles pour définir un sous-ensemble distinct de myopathie inflammatoire. Si le syndrome des anti-SRP apparaît cliniquement polymorphe, la reconnaissance de ses caractéristiques pathologiques particulières peut permettre un diagnostic précoce et proposer un traitement adapté, dans le but d'améliorer au final le pronostic global.
Fichier principal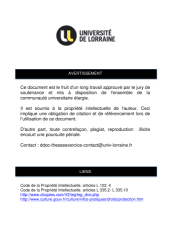 BUMED_T_2016_CABON_MATHIEU.pdf (8.88 Mo)
Télécharger le fichier
Origin : Files produced by the author(s)