Maturity level and new payment methods for multi-professional healthcare centers in the Great East region of France : a transformation to be continued
Maisons de santé pluriprofessionnelles du Grand Est : quelles différences la matrice de maturité révèle-t-elle entre celles adhérentes ou non au règlement arbitral ?
Introduction : Depuis une dizaine d'année, la création des expérimentations des nouveaux modes de rémunération (ENMR) a provoqué un choc culturel en transformant une pratique individuelle, isolée vers une pratique mixte avec un exercice coordonné en équipe. Ces ENMR ont accompagné le développement des maisons de santé pluriprofessionnelles (MSP) permettant de meilleurs résultats sur les indicateurs de santé (morbidité-mortalité, satisfaction des usagers et une diminution des coûts). Le Règlement Arbitral (RA) puis l'Accord Conventionnel Interprofessionnel (ACI) ont généralisé et pérennisé les nouveaux modes de rémunération (NMR) au sein de ces structures. L'objectif de cette étude est d'évaluer l'influence de ces NMR sur la maturité des MSP du Grand Est en utilisant comme support la matrice de maturité de la HAS. Matériel et méthode : Une étude quantitative comparative transversale a été réalisée entre juillet 2017 et décembre 2017 auprès des leaders et coordinateurs de 28 MSP du Grand Est, complétant la base de données d'une autre étude sur la Lorraine, permettant l'inclusion de 68 MSP. Un questionnaire, composé de la matrice de maturité de la HAS a été utilisé pour définir le niveau de maturité des MSP. Des tests de khi-2 et exact de Fisher ont été réalisés via le logiciel SPSS 25 d'IBM. La comparaison s'est faite entre les MSP adhérentes au RA et celles qui n'ont pas adhérées. Résultats : Le groupe RA était composé de 47 MSP et le groupe Non RA de 21 MSP. 21 sous dimension sur 60 analysées présentaient une association significative avec un risque alpha <5%. Les dimensions concernées étaient les réunions de concertation pluriprofessionnelles, les protocoles pluriprofessionnels, le partage des données, la gestion des données cliniques, la continuité des soins et la gestion du projet de santé. Les dimensions non analysées car insuffisamment ou non intégrées à la pratique des structures concernaient l'éducation thérapeutique du patient, le plan personnalisé de santé, l'analyse des pratiques et l'expérience des patients. Discussion : Cette étude a montré un niveau de maturité supérieur des MSP adhérentes aux RA dans 21 sous dimensions de la matrice de maturité. Ces sous dimensions étaient liées aux critères du RA et de l'utilisation de ces NMR. Cependant cette transformation est à poursuivre car certaines dimensions ne sont pas suffisamment intégrées dans la pratique des structures du Grand Est, notamment l'éducation thérapeutique et l'implication des patients. L'instauration d'une démarche qualité et d'une approche stratégique sont nécessaires afin d'améliorer la maturité des MSP, lieux d'innovation, tout en identifiant les freins et les leviers liés à ces NMR.
Fichier principal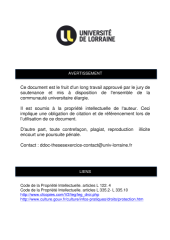 BUMED_T_2018_DIDELOT_ALEXANDRE.pdf (1.78 Mo)
Télécharger le fichier
Origin : Files produced by the author(s)