La place des acteurs dans un projet sport citoyen
In recent years the political districts of the city in France are experiencing a change and urban renewal quite remarkable. In this current political context, the French governement and local authorities are increasingly using sport as a means of cohesion and social integration. For this, they collaborate with the other territorial actors(associative fabric, private sector, university, school ...) in order to set up citizens sports projects in favor of this population from QPV.As part of this policy, USV Basketball has offered to organize a citizen sports project in partnership with the city of Vandoeuvre and several other actors for the residents of Vand'Est, considered as QPV, in order to sdynamize it and encourage social diversity. What is the place of these actors in this project? And how will they intervene?
Depuis ces dernières années les Quartiers politiques de la ville en France connaissent un changement et un renouvellement urbain assez remarquable. Dans ce contexte politique actuel, l'Etat Français et les collectivités territoriales utilisent de plus en plus le sport comme moyen de cohésion et d'insertion sociale. Pour cela, ils sollicitent les autres acteurs territoriaux (tissu associatif, secteur privé, université, école ...) pour mettre en place des projets sportifs citoyens en faveur de cette population issue de QPV.Dans le cadre de cette politique, L'USV Basketball s'est proposé pour organiser un projet sportif citoyen en partenariat avec la ville de Vandoeuvre et plusieurs autres acteurs à destinationdes habitants du quartier de Vand'Est, considéré comme QPV, afin de le dynamiser et encourager la mixité sociale. Quelle est alors la place de ces acteurs dans ce projet? Et de quelle manière vont-ils intervenir ?
Fichier principal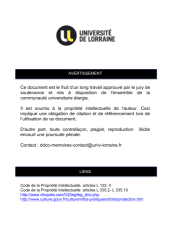 BUS_M_2018_GUEZZAZ_HATIM.pdf (2.14 Mo)
Télécharger le fichier
Origin : Files produced by the author(s)