Les caractéristiques mécaniques et la microstructure du béton des granulats recyclés a hautes performances
As various kinds of building which were constructed in the early days of our country's foundation in China are close to the service life, the concrete industry in China faces two major challenges: the first one is the resource crisis, the pouring of concrete need to use a large number of natural aggregate; the second one is the environmental crisis, the construction waste which is produced by abandoned concrete and scrapped structural concrete may not only takes up the valuable land but also causes environmental pollution. Currently the research and utilization of recycled concrete is very little in my country. In the view point of sustainable development, the recycled aggregate concrete which is made from recycled concrete aggregates of waste concrete, fly ash, granulated blast-furnace slag and so on can greatly resolve the problem of coordinated development between resource and environment. Therefore, this article is mainly based on experiment and research, and had studied the basic properties and micro structure of the high performance recycled aggregate concrete. The main content is as follows: 1, Study and know about the concept of double interface, use the electrical scanner to observe the morphology and the interfacial transition zone of the high-performance recycled aggregate concrete. 2, A serious experiments and researches about basic mechanical properties of the high-performance recycled aggregate concrete were carried out , the experiment result indicated that the cube compressive strength ,axial compressive strength ,tensile splitting strength of high-performance recycled aggregate concrete are little lower than those of high-performance natural aggregate concrete on the same strength.
Le béton constitue un matériau de première importance des différents travaux et infrastructures, parmi les matières premières composant le béton, les granulats prend la première place. Avec l'augmentation de la quantité du béton, la consommation des granulats naturels s'augmente. Le béton abandonné, en tant qu'un matériau réutilisable, est destiné aux travaux de génie civil après une série de traitement. Considérant en fonction du développement durable, la confection du béton à hautes performances avec granulats recyclés du béton abandonné et cendres volantes, laitiers fins devient une bonne solution au problème de développement harmonieux entre les ressources et l'environnement. Mon projet de stage est « Wuhan CBD », dont la conception et la planification ont débuté en 2006, un quartier commercial d'une superficie de 7,31km2 sera établi en 2020. Dans ce projet, le béton abandonné provenant du site original est réutilisé, le béton mentionné dans le présent texte provient également du béton abandonné de la piste de l'aéroport Wang Jia Dun de Wuhan. Le sujet de stage : 1, Test de caractéristiques mécaniques du béton à hautes performances. 2, Observation de la microstructure du béton de recyclage.
Fichier principal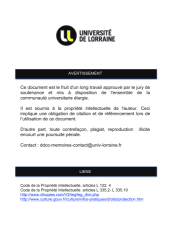 BUS_M_2012_YU_BONING.pdf (6.99 Mo)
Télécharger le fichier
Origin : Files produced by the author(s)