Horaires atypiques et hygiène de vie
At the Roads Board for Ile-de-France, a large part of the employees work on non-standard shifts. But this practice is not risk-free and it contributes to premature decline in health for workers. Sleep disorder and cardiovascular pathology may occur. This internship's project answered to a need identified by the Security and Awareness Board to address the topic and to promote the workers' health. It has taken part in an awareness campaign which main goal was to bring knowledge to the workers about a healthy lifestyle (concerning sleep and food) and to depart from unhealthy behaviors. To that order, this project led to the conduct of two tasks: setting awareness sessions and building effective communication tools to spread awareness messages. A target sample of 162 workers was created. In order to successfully complete the two tasks, a cross-disciplinary joint effort was necessary. Moreover, surveys and document researches wereconducted. Overall, the awareness sessions proceeded smoothly. They were greatly liked by the participants and 96% of them have shown interest in renewing this type of event. The content and form of the communication tools created (a poster and an educational booklet) were greatly appreciated by both theworkers and the Security and Awareness Board. The conducted project allowed to update the Single Administrative Document for Occupational Hazard Prevention by including an educational tool kit for workers' awareness campaigns. The results obtained are promising for the renewal of the events as well as for the expansion of the project. Advice were provided in order to make it durable.
Au sein de la Direction des routes Île-de-France, une grande partie des salariés travaille en horaires atypiques. Cette pratique n'est pourtant pas sans risque pour la santé et contribue à l'usure prématurée des travailleurs. Troubles du sommeil et pathologies cardio-vasculaires peuvent survenir. La mission de stage a répondu à un besoin identifié par le Bureau Sécurité Prévention d'intervenir auprès de ces travailleurs et de promouvoir leur santé. Elle s'est inscrite dans un travail de sensibilisation dont l'objectif principal était d'apporter aux salariés, un gain de connaissances sur l'hygiène de vie (sommeil et alimentation) et de faire évoluer certains comportements néfastes pour la santé. Pour cela, cette mission a conduit à la réalisation de deux actions : la mise en place de sessions de sensibilisation et l'élaboration d'outils de communication favorables à l'intégration des messages de prévention. Un échantillon cible de 162 salariés a été retenu. Pour mener à bien ces deux actions, une collaboration pluridisciplinaire a été nécessaire. Par ailleurs, des enquêtes et des recherches documentaires ont été entreprises. Globalement, les sessions de sensibilisation se sont bien déroulées. Elles ont été fortement appréciées par les participants et 96% d'entre eux ont souhaité voir renouveler ce type d'actions. Le fond et la forme des outils de communication conçus (affiche et guide pédagogique) ont été ovationnés par les salariés ainsi que par le Bureau Sécurité Prévention. La mission menée a permis de mettre à jour le Document Unique d'Évaluation des Risques Professionnels en intégrant une valise pédagogique pour la sensibilisation du personnel. Les résultats obtenus sont encourageants pour le renouvellement des actions ainsi que pour l'extension du projet. Des recommandations ont été faites en vue de la pérennisation du projet.
Fichier principal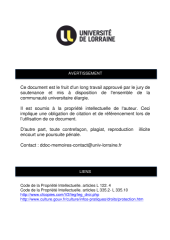 BUMED_MSPM_2014_MACE_MARINA.pdf (1.53 Mo)
Télécharger le fichier
Origin : Files produced by the author(s)