Dendroécologie du Pin Sylvestre de Mazovie, Pologne
Poland continues to be afforested its poorest agricultural land, even if the soil conditions are deemed worse than those of forest plantations. Thus, does the previous land-use (i.e. agriculture versus forest) modifies xylogenesis and sensitivity to climate? Investigations were conducted in Polish lowland, on 40 Scots pines from 65 to 101 years old. Ring-width series of double radii were created based on measurement of annual rings using WinDENDRO. Dendrochronology technics (i.e. crossdating and double standardization) allowed obtain a master chronology, which was confronted with climate data through correlation functions and an analysis of pointer years. These results showed that a mild winter and additionally a cool and wet autumn were the main factor for a large Scots pine ring. Comparative analysis highlighted that pines from former farmland (i) grown more slowly (-16%) than pines grown under forest typical conditions and (ii) showed increased sensitivity to climatic factors, both in normal years and in extreme conditions. A contrario, pines from former farmland from 5 to 35 years-old, experienced a higher latewood proportion, for a core of juvenile wood of only 6 cm on average.
La Pologne continue de boiser ses terres agricoles les plus pauvres ; même si les conditions pédologiques y sont réputées plus défavorables que celles des reboisements forestiers. Ainsi, le précédent cultural (i.e. agricole versus forestier) modifie-t-il la xylogénèse et la sensibilité au climat ? L'étude porta sur 40 pins sylvestres de la plaine polonaise, âgés de 65 à 101 ans. La mesure à l'aide de WinDENDRO des largeurs de cerne permit la construction d'une série de croissance par arbre. Les techniques de dendrochronologie (i.e. interdatation et double standardisation) permirent d'obtenir une chronologie maîtresse qui fut confrontée aux données climatiques par le biais de fonctions de corrélation et d'une analyse des pointer years. Ces résultats montrèrent qu'un automne frais et humide et surtout des températures hivernales douces constituaient le principal facteur d'un cerne large pour le pin sylvestre de Mazovie. L'analyse comparée mit en évidence qu'un pin de sol agricole poussait moins vite qu'un pin forestier (-16 %), et présentait une sensibilité accrue aux facteurs climatiques, tant en années normales que lors de conditions extrêmes. A contrario, il bénéficiait, entre l'âge de 5 et 35 ans, d'une proportion de bois final plus importante, pour un noyau central de bois juvénile de seulement 6 cm en moyenne.
Fichier principal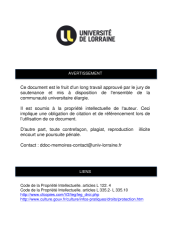 BUS_M_2014_HARNIST_SEBASTIEN.pdf (1.34 Mo)
Télécharger le fichier
Origin : Files produced by the author(s)