Elaboration d'un diagnostic pour la restauration des auréoles bocagères et le confortement des corridors écologiques sur 27 communes du territoire du Pays des 7 Vallées
A few decades ago in Nord-­Pas-de-­Calais like everywhere in France, a massive destruction of hedgerows occurred. This phenomenon is due to the size expansion of the agricultural parcels, land consolidation and modernization of agriculture (developments in technologies and agricultural practices). Nowadays the restoration of this hedgerows landscape is desirable, because those elements have a lot of ecological functions in rural territories. It constitutes a habitat and a shelter for the fauna and flora, it's also a characteristic element of embankment, an asset for landscape and it reduces erosion and water runoff. Hedgerows are ecological corridors and constitute an important part of the blue-­green infrastructure network. The territory of the Communauté de Communes des 7 Vallées in west of Pas-de-­Calais' department is considerated as the 'green lung' of the region. As such, the intercommunality requested the establishment of a diagnostic on 27 communes in order to restore hedgerows on communal ground with founding and support of the region. By field work and discussions with mayors and elected representatives of the 27 communes from the study, it had been possible to establish a development plan for hedgerows and trees that may be set up in the future. This report presents the context of the diagnostic, methods of realization, the results, as well as suggestions for animations on private ground: a reflexion on what type of projects could be organized in order to raise awareness of general public on the subject of ecological impact of hedgerows.
Il y a quelques dizaines d'années du fait de l'expansion des parcelles agricoles, des remembrements, de l'augmentation de la taille des engins d'exploitation, il y a eu dans le Nord-­Pas-­de-­Calais comme partout en France une destruction massive des haies bocagères. Aujourd'hui les collectivités souhaitent restaurer ce bocage qui possède de grandes fonctions écologiques sur les territoires ruraux. Constituant un habitat et une protection pour la faune et la flore, un élément caractéristique des talus, un atout paysager limitant l'érosion et le ruissellement, les auréoles bocagères sont des corridors écologiques et font partie intégrante de la Trame Verte et Bleue. Le territoire de la Communauté de Communes des 7 Vallées dans l'ouest du département Pas-­de-­Calais est considéré comme étant le « poumon vert » de la région. A ce titre, elle à souhaité qu'un diagnostic soit établi sur 27 de ses communes afin de restaurer ces auréoles bocagères sur le terrain communal avec l'aide de financements publics régionaux. Par un travail d'étude de terrain accompagné de discussions avec les maires et élus des communes concernées, il a été possible d'établir une cartographie d'aménagements potentiels à réaliser sur le territoire. Ce rapport présente le contexte du diagnostic, les méthodes de réalisation, les résultats obtenus ainsi que des suggestions d'animations qui pourraient être mises en place afin de sensibiliser également les riverains aux enjeux écologiques des haies champêtres.
Fichier principal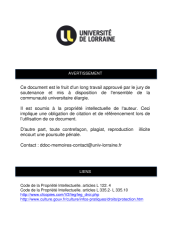 BUS_M_2014_MARTIN_PAULINE.pdf (1.88 Mo)
Télécharger le fichier
Origin : Files produced by the author(s)