Innovation sociale et numérique : l'identité narrative comme processus de composition de l'identité professionnelle numérique des quartiers "Politique de la Ville"
This dissertation deals with Paul Ricoeur's narrative line as a productive process of shaping a professional digital identity of city politicies. From that "search-action" iterative process, we have recharacterized an e-commerce platform (Prestashop) into a transactional object of concepts rationalization. The result of those analyses, in the light of collected and processing data from that digital platform, lead us to shape the start of significant professional identities regarding socioeconomic issues.
Ce mémoire propose d'étudier l'identité narrative de Paul Ricoeur comme processus performatif d'élaboration d'une identité professionnelle numérique maîtrisée dans les quartiers « Politique de la Ville ». À partir d'une démarche itérative de « recherche-action », nous avons requalifié une plateforme d'e-commerce (Prestashop) en objet transactionnel de rationalisation de l'expression des idéels des sujets interviewés. Le résultat de ces analyses qualitatives corrélées aux données discrètes collectées sur cette plateforme numérique nous a permis de construire les prémices d'identités professionnelles numériques prégnantes au regard des enjeux de développement socioéconomiques.
Fichier principal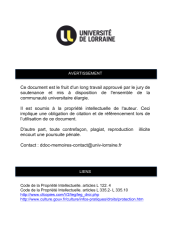 BUS_M_2018_MAMFOUMBI_CHYC.pdf (3.04 Mo)
Télécharger le fichier
Origin : Files produced by the author(s)