L'adaptation en bande dessinée de El matadero d'Esteban Echeverría : Enrique Breccia se souvient...
A « classic » of Argentine literature, El matadero by Esteban Echevarría was adapted to the comic by Enrique Breccia in 1984. This study intends to examine the way Breccia uses the methods of the comic in a duty to remember, while taking over the original text to bring it back to a « piece of work ». It considers all the stages of semiotic transposition as a series of acts of memory and oversight, in the sense that the drawn story results from a sample of the original text, partially reproduced, rewritten or turned into pictures thanks to the medium's different tools. It analyses how Breccia, through eight plates and forty-nine illustrations, pays tribute to the founding text of Argentine fiction, giving priority to choices which make his story conducive to the exercise of a more recent, and above all selective memory.
« Classique » de la littérature argentine, El matadero d'Esteban Echeverria est adapté en bande dessinée par Enrique Breccia en 1984. Cette étude se propose d'examiner la façon dont Breccia exploite les modalités de la bande dessinée pour faire acte de mémoire tout en s'appropriant le texte source, qu'il remet « en œuvre ». Elle envisage l'ensemble des opérations de la transposition sémiotique comme une série d'actes de mémoire et d'oubli, au sens où le récit dessiné résulte d'un prélèvement du texte original, partiellement reproduit, réécrit ou traduit à l'image, à l'aide des différents outils du médium. Elle analyse comment Breccia, en huit planches et quarante-neuf vignettes, rend hommage au texte fondateur de la fiction argentine, tout en privilégiant des choix qui rendent son récit propice à l'exercice d'une mémoire plus récente et, surtout, sélective.
Fichier principal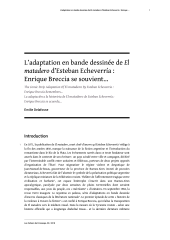 framespa-4677.pdf (1.98 Mo)
Télécharger le fichier
Origin : Publisher files allowed on an open archive