Autonomisation du champ musical entre nationalisme et internationalisme : étude des trajectoires de trois compositeurs français au tournant du XXe siècle
This dissertation, based on a statistical description of the literary influences of three French composers of the late 19th century (Claude Debussy, César Franck and Vincent d'Indy) articulated with an analysis of their socio-biographical trajectory, questions the international circulation of cultural references through the prism of artistic autonomy concept developed by Pierre Bourdieu in his field theory. Based on a historical and sociological approach, this research aims to reveal some of the internal and external logics in the French musical field between 1882 and 1910 in attempt to provide response elements to the transnational question.
A partir d'une description statistique des influences littéraires des oeuvres de trois compositeurs français de la fin du XIXe siècle (Claude Debussy, César Franck et Vincent d'Indy), articulée à une analyse de leur trajectoire socio-biographique, ce mémoire interroge la circulation internationale de références culturelles, au prisme du concept d'autonomie artistique développé par Pierre Bourdieu dans sa théorie des champs. En s'appuyant sur une démarche historique et sociologique, il vise à faire apparaitre certaines des logiques internes et externes au champ musical français entre 1882 et 1910 et ainsi apporter des éléments de réponse à la question transnationale.
Fichier principal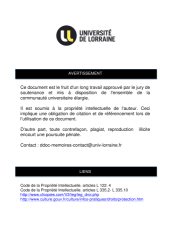 BUL_M_2020_KOENIG_LEA.pdf (1.06 Mo)
Télécharger le fichier
Origin : Files produced by the author(s)