Improvement of the quality management system : implementation of the application "Event and CAPA"
Amélioration du système de management de la qualité : implémentation de l'application "Evénement et CAPA"
Au sein d'une industrie pharmaceutique soumise aux Bonnes Pratiques de Fabrication, le système de Management de la Qualité permet de gérer des processus comme les déviations et les CAPA (Actions correctives et préventives). Dans le but de maintenir des produits finis avec un profil de qualité, de sécurité et d'efficacité satisfaisant sur le marché, les processus cités ci-dessus doivent constamment être améliorés. Ces processus étant gérés par des fichiers Excels et des formulaires papiers. Cette thèse décrit les différentes étapes conduisant à l'implémentation d'une application, en utilisant une méthode d'amélioration continue, le PDCA (Plan, Do, Check et Act). L'utilisation de l'application « Evènements & CAPA » du logiciel Reliance est propre à l'entreprise MSD Igoville, cependant d'autres applications similaires sont utilisées par d'autres industries pharmaceutiques ayant pour but une meilleure gestion des déviations et des CAPA.
Fichier principal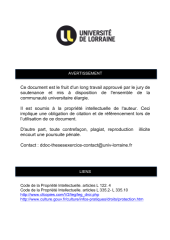 BUPHA_T_2019_MARHOFFER_ZOE.pdf (4.06 Mo)
Télécharger le fichier
Origin : Files produced by the author(s)