Que pensent les magistrats de la table de fixation de la contribution à l'entretien et à l'éducation de l'enfant ?
A questionnaire survey of judges in charge of family cases, supported by an interview survey of judges, provides an opportunity to find out what judges think about child support guidelines. Although the use of the guidelines is frequent, judges remain critical, opposing its usefulness to the preservation of their discretion. Their criticisms and suggestions for improvement testify to their lack of knowledge of the explanatory document initially associated with the guidelines, which was distributed independently of the guidelines. The use of guidelines does not seem to be related to the existence of claims of an unusual amount or to on the principle under which the parties delimit the scope of the case: few judges set child support outside the range of supply and demand, even when these amounts are below the amount recommended by the guidelines.
Une enquête par questionnaires auprès des JAF, confortée par une enquête par entretien auprès de magistrats, permet de connaître ce que les magistrats pensent de la table de référence pour la contribution à l'entretien et l'éducation des enfants (CEEE). Bien que le recours à la table soit fréquent, les magistrats demeurent critiques, opposant son utilité à la préservation de leur pouvoir d'appréciation. Leurs critiques et propositions d'amélioration témoignent de leur méconnaissance de la note explicative initialement associée à la table, celle-ci ayant été diffusée indépendamment de celle-là. L'usage de cet outil ne semble pas être justifié par l'existence de prétentions d'un montant inhabituel ni avoir de conséquence sur le respect par les magistrats du principe dispositif : ils sont peu nombreux à fixer une CEEE en dehors de la fourchette des propositions des parents, même lorsque ces sommes sont en-deçà du montant préconisé par le barème.
Fichier principal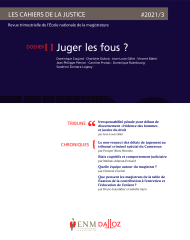 B.JEANDIDIER_I.SAYN-Que pensent les magistrats ... 2021.pdf (613.97 Ko)
Télécharger le fichier
Origin : Publisher files allowed on an open archive