Itinéraire d'un stagiaire à l'Ecole de la 2e Chance : attentes, usages et sens du parcours de formation face aux enjeux d'employabilité
The Ecole de la 2e Chance (E2C) is a training and support system aimed at the social and professional integration of young adults aged 16 to 25, who have left the education system without a diploma or qualification. During their training, the trainees engage in numerous activities where they work on, develop and identify skills that will help them integrate into working life. In recent years, the notion of competences has been introduced in all spheres of employment, integration or education, so that the definitions and uses of this term are regularly debated. I was therefore interested more specifically in what trainees enrolled at the E2C could understand about it, and my aim was to understand what the term "skills" means to them and, more specifically, the meaning they give to the training activities devoted to it. Therefore, the purpose of this work is to explore the meaning for an E2C trainee of being involved in a training pathway, offering training activities related to the development and validation of skills.
L'Ecole de la 2e Chance (E2C) est un dispositif de formation et d'accompagnement visant l'insertion sociale et professionnelle de jeunes adultes de 16 à 25 ans, sortis du système éducatif sans diplôme, ni qualification. Au cours de leur formation, les stagiaires s'engagent dans de nombreuses activités où il est question de travailler, développer et identifier des compétences favorisant l'insertion dans la vie active. Ces dernières années, la notion de compétences s'est introduite dans toutes les sphères qui touchent à l'emploi, à l'insertion ou à l'éducation, si bien que les définitions et les usages de ce terme font régulièrement l'objet de débats. Aussi, m'intéressant plus spécifiquement à ce que des stagiaires inscrits à l'E2C peuvent en comprendre, il s'agissait de saisir ce que revêt pour eux le terme de compétences et, plus précisément, le sens qu'ils prêtent aux activités de formation qui y sont consacrées. Ainsi, l'objet de ce travail vise à explorer le sens que prend pour un stagiaire à l'E2C de s'engager dans un parcours de formation, proposant des activités de formation en lien avec le développement et la validation de compétences.
Fichier principal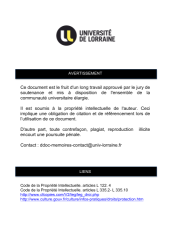 LSHS_M_2021_PERISSE_AURELIE.pdf (1.58 Mo)
Télécharger le fichier
Origin : Files produced by the author(s)