The creation of a National Collective - From the declaration of its social object to its implementation - : what are the factors and conditions of success for collective commitments, partnerships, cooperation and collaboration between members?"
La création d'un collectif national – De la déclaration de son objet social à sa mise en œuvre – : quels sont les facteurs et conditions de réussite pour des engagements collectifs, des partenariats, des coopérations et collaborations entre les adhérents?
The following paper reports on research work carried out between October 2019 and June 2020 within the Collectif France Emploi Accompagné, a recent collective heading towards a change of scale. The author studies the nature of the conditions of individual and collective involvement of its members and administrators at the service of the social object of the collective. Following the study of this complex environment and a presentation of the key concepts that formed the basis of his line of thought, the author formulates his hypothesis as to the conditions of success for the implementation of the social object of this collective.
Le présent mémoire rend compte du travail de recherche réalisé entre octobre 2019 et juin 2020 au sein du Collectif France Emploi Accompagné, collectif récent s'orientant vers un changement d'échelle. L'auteur y étudie la nature des conditions d'implications individuelles et collectives de ses adhérents et administrateurs au service de l'objet social de ce collectif. A la suite de l'étude de cet environnement complexe et d'une présentation des concepts clés ayant construit sa réflexion, l'auteur formule ses hypothèses quant aux conditions de réussite pour une mise en oeuvre de l'objet social de ce collectif.
Fichier principal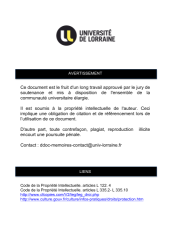 BUS_M_2020_MUNSTER_PIERRE.pdf (1.41 Mo)
Télécharger le fichier
Origin : Files produced by the author(s)