Quand les acteurs de l'emploi du Grand Est font de la coopération la phase incontournable pour le retour à l'emploi : une évidence pas si évidente
In a situation where unemployment figures decreased by 3% in 2019, France still has 5,740,200 job seekers. Pôle emploi, a central player in the job market, has been rallying its efforts with the public policy reforms. Indeed, since the 1980s, the State has faced the establishment of sustainable unemployment. In order to prevent any risks of professional exclusion, the State is multiplying reforms and taking new directions in terms of career individualization and territorialization. The strategy use by the State, with the implementation of an efficiency policy against unemployment, empowers local actors. They are encouraged to cooperate since actions are taken closely to their needs. Those actions respond to the government objectives. This ubiquitous cooperation in political discourse, appears to be a key success to reduce unemployment. Thus, the employment players are willing to find an agreement between top-down policies and economic challenges of the territories. From my area of research, the partnership service at the Regional Direction of Pôle emploi Grand Est, I will try to understand how the dynamics of cooperation work in this region, with the common objective of going back to full employment. In that sense, different notions relating to coordination, social ties, territory and public policies will clarify the topic. Scientists from socio-economic sciences, political sciences or even sociology enable us to understand cooperation in its definition, its relationships and its coordination. At the same time, nine institutional players in employment provide their testimonies. Reflections that have led to highlight the importance of the coordination of identity and trust within cooperation, but also of the importance of the differences within territories.
Dans un contexte où les chiffres du chômage reculent de 3 % en 2019, la France compte encore 5 740 200 demandeurs d'emploi. Pôle emploi, acteur central du marché de l'emploi se mobilise au gré des réformes des politiques publiques. En effet, depuis les années 80, l'Etat fait face à l'installation d'un chômage de longue durée. Souhaitant prévenir les risques d'exclusion professionnelle l'Etat multiplie les réformes et prend de nouvelles orientations sur le plan de l'individualisation des parcours et de la territorialisation. Ce repositionnement de l'Etat avec l'application d'une politique d'efficacité contre le chômage responsabilise les acteurs locaux. Les enjeux d'action au plus près des besoins des territoires et de réponse aux objectifs du gouvernement incitent les acteurs de l'emploi à coopérer. Cette coopération omniprésente dans les discours des politiques, apparait comme essentielle à la réussite du challenge de la baisse du chômage. Ainsi entre les politiques descendantes et les enjeux économiques des territoires les acteurs de l'emploi tentent de s'accorder. A partir, de mon terrain de recherche le service partenariat la Direction Régionale de Pôle emploi Grand Est, je vais tenter de comprendre comment se réalise la dynamique des coopérations sur le territoire du Grand Est autour de l'objectif commun du retour à l'emploi. En ce sens, différentes notions relatives à la coordination, au lien social, ou encore celles du territoire et des politiques publiques viennent éclairer le sujet. Ces scientifiques des domaines des sciences socio-économiques, sciences politiques ou encore de sociologie nous permettent ainsi d'appréhender la coopération dans sa définition, ses relations et sa coordination.
Fichier principal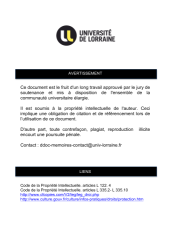 BUS_M_2020_SIVIGNON_VIRGINIE.pdf (1.52 Mo)
Télécharger le fichier
Origin : Files produced by the author(s)