Prise en considération des particularités sensorielles des enfants et adolescents porteurs de troubles du spectre autistique par les orthophonistes exerçant en libéral
Sensory characteristics were recently added into the diagnostic criteria for Autism Spectrum Disorder (ASD). These characteristics bring a new perspective on ASD and enhance our understanding of typical behaviors exhibited by subjects on the spectrum. This thesis examined how speech-language pathologists working in private settings are adjusting their practice to better accommodate sensory characteristics of children and teenagers with ASD. Results of a questionnaire revealed that sensory characteristics of ASD were not considered enough during evaluations and intervention .The speech-language pathologists who were the least aware of these particularities were the ones who struggled the most to adjust their practice. We also conducted phone interviews with speech-language pathologists working in a private setting. They provided us with qualitative data about their clinical practice. Finally, we developed a guideline for clinicians based on our collected data and published literature in the field. This guideline included practical recommendations about sensory characteristics of autism. Further research could examine and validate the effectiveness of this guideline.
Les particularités sensorielles sont entrées récemment dans les critères diagnostiques des troubles du spectre autistique. Elles permettent de les appréhender sous un angle nouveau, et amènent ceux qui s'y intéressent à mieux comprendre certains comportements présentés par les personnes porteuses de TSA. Nous avons étudié dans ce mémoire la façon dont les orthophonistes exerçant en libéral s'adaptent aux particularités sensorielles des enfants et adolescents porteurs de TSA qu'ils reçoivent. Grâce à un questionnaire à destination de ces orthophonistes, nous avons établi que les aspects sensoriels n'étaient pas toujours suffisamment pris en considération dans le bilan et l'intervention orthophoniques, les orthophonistes les moins sensibilisés étant ceux qui s'y adaptent le moins. Des entretiens téléphoniques auprès d'orthophonistes libéraux nous ont apporté des informations qualitatives supplémentaires sur la pratique clinique des orthophonistes. Nous nous sommes appuyée sur les informations recueillies et les données de la littérature pour élaborer un livret de recommandations au sujet des particularités sensorielles, à destination des orthophonistes exerçant en libéral. Un travail ultérieur pourrait servir à valider l'utilité de ce livret.
Fichier principal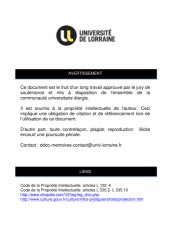 BUMED_MORT_2019_MILLET_CAROLINE.pdf (4.51 Mo)
Télécharger le fichier
Origin : Files produced by the author(s)