Satisfaction des accouchées vis-à-vis des moyens thérapeutiques pour inhiber la lactation : étude auprès de 47 patientes issues de trois maternités lorraines, en 2016
INTRODUCTION: Women who just gave birth don't always wish to breast-feed. There are ways of inhibiting lactation, but all don't have the same efficacy nor do they pose the same risks. How to know which one to use? The purpose of this study was to compare patients' degrees of satisfaction depending on the treatment they received. STUDY DESIGN: Survey carried out among 47 patients who gave birth (at full term) in three maternity wards of Lorraine between October 2015 and March 2016. Patients were divided into three groups depending on the treatment they were given (Cabergoline, Lisuride, homeopathy). RESULTS: Patients treated with Cabergoline or homeopathy reacted well to those treatments and were satisfied by their efficacy. Lisuride didn't get as many satisfying results, mostly because of adverse reactions (experienced by 67% of the group's patients). DISCUSSION: Drug treatments are effective but can cause adverse reactions (dizziness,palpitation, hot flashes). Other studies will be necessary to evaluate their potential risks.
INTRODUCTION : Certaines patientes ne souhaitent pas allaiter leur enfant. Il existe des méthodes pour inhiber la lactation, toutes n'ont pas le même niveau d'efficacité et de risque. Comment savoir quelle méthode utiliser ? L'objectif de notre étude était de comparer les degrés de satisfaction des patientes en fonction de leur traitement. MÉTHODE : Enquête auprès de 47 patientes ne souhaitant pas allaiter, ayant accouché (à terme), entre le 14 octobre 2015 et le 14 mars 2016 dans trois maternités lorraines. Nous avons réalisé trois groupes en fonction des traitements (Cabergoline, Lisuride, Homéopathie). RÉSULTATS: Les patientes sont satisfaites de l'efficacité et la tolérance qu'offrent la Cabergoline et l'homéopathie. Le Lisuride a obtenu de plus mauvais résultats, notamment pour les effets indésirables (qui ont concerné 67% des patientes). DISCUSSION : Les traitements médicamenteux sont efficaces mais présentent des effets indésirables (vertiges, palpitations, bouffées de chaleur). Il est nécessaire de réaliser de nouvelles études pour évaluer les risques de ces traitements.
Fichier principal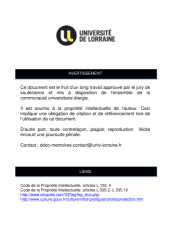 BUMED_MESF_2016_PERRIN_LEA.pdf (1.02 Mo)
Télécharger le fichier
Origin : Files produced by the author(s)