La sage-femme, au coeur du projet de l'accouchement ambulatoire : étude qualitative monocentrique de la place et la perception des sages-femmes hospitalières et libérales en vue de la mise en place de l'accouchement ambulatoire – Thionville – 2017
BACKGROUND – The Thionville new maternity wants to propose a another type of healthcare to be in harmony with the current climate of combat against over medicated pregnancy and delivery, the couple needed to think about their birth project, and the economic reducing of hospital stay. The project of outpatient birth is part of the birth center, with the possibility to quit maternity a few hours after birth if the mother and her baby are not at risk of complications. The objective was to estimate the detected impact of outpatient birth on clinician midwives. METHODS – We carried out a qualitative observational monocentric study of the place and perceptions of hospitals and private practice midwifery centers about the maternity Bel-Air project between 17th January and 23rd February 2017. Selected midwives worked in birthing rooms, maternities, in consultation rooms, and in private practice midwiferies; without students, tutors and health executives. Semi-structured individual interviews realized were carried out to collect perceptions and experiences. The analysis was done using SPHINXDECLIC software. RESULTS – 15 midwives were interviewed : 6 hospital midwives and 9 private practices. Private midwives had less then 10 years of practice compared to 17 years for the hospital workers. The results showed an impact on : 1) The relation in semi- global aftercare, ` 2) Breast feeding care, 3) Workload : unpredictable for private workers and administrative for hospital midwives, 4) The organization of birthing session and postnatal surveillance. CONCLUSIONS – The study showed different consequences of outpatient birth, which were detected by clinician midwives. The results should better aim at couples and professionals' expectations, offer an alternative between precipitate PRADO (allowed by The French national health insurance system) and birth centers, and to compare eventually our results with a similar study which will realise a posteriori.
INTRODUCTION – La nouvelle maternité de Thionville souhaite proposer une offre de soins repensée pour être en adéquation avec la tendance actuelle de lutte contre la surmédicalisation de la grossesse et l'accouchement, de besoin plus important des couples de réfléchir à un projet de naissances, dans un contexte budgétaire de raccourcissement du séjour hospitalier. Ce projet d'accouchement ambulatoire s'inscrit dans l'esprit des maisons de naissances avec une sortie de la maternité le jour suivant la naissance pour les couples mère-enfant à bas risque médico-psycho-social. L'objectif est d'évaluer l'impact perçu par les sages-femmes cliniciennes sur la mise en place de l'accouchement ambulatoire. MÉTHODE – Nous avons réalisé une étude qualitative observationnelle monocentrique de la place et la perception des sages-femmes dans ce projet à la maternité Bel-Air et aux libérales du secteur du 17 janvier au 23 février 2017. Les sages-femmes inclues étaient celles exerçant en salles de naissances, en consultations, en maternité, et les libérales ; à l'exclusion des étudiants, formatrices et cadres. Des entretiens semi-directifs individuels étaient réalisés pour recueillir les perceptions et expériences. L'analyse était réalisée par le logiciel SPHINXDECLIC.RÉSULTATS – 15 sages-femmes ont été interrogées : 6 hospitalières et 9 libérales. Les libérales interrogées avaient moins de 10 ans de pratique contre 17ans en moyenne pour les hospitalières. Les résultats montraient un impact : 1) Sur le relationnel avec le suivi semi global, 2) Sur l'accompagnement de l'allaitement maternel, 3) Sur la charge de travail : imprévisible pour les libérales et administrative pour les hospitalières, 4) Sur l'organisation des séances prénatales et de la surveillance postnatale. CONCLUSION – L'étude montre les différentes conséquences de l'accouchement ambulatoire perçues par les sages-femmes cliniciennes. Les résultats permettront de mieux cibler les attentes des couples et des professionnels, de proposer une alternative entre Prado précoce et maison de naissances, et éventuellement de comparer les résultats à une étude similaire réalisée a posteriori de la mise en place du projet.
Fichier principal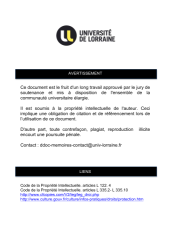 BUMED_MESF_2017_SEMROUNI_IMENE.pdf (1.95 Mo)
Télécharger le fichier
Origin : Files produced by the author(s)