Décollement du pôle inférieur de l'oeuf dans les grossesses prolongées : étude rétrospective cas-témoins au CHR Metz-Thionville Hôpital Bel-Air en 2017
INTRODUCTION - The late term pregnancy and the post term pregnancy are defined respectively from 41 and 42 weeks of gestation. It's known that perinatal morbidity and mortality is increased in case of late term pregnancy as well as maternal morbidity. The French and international guidelines advise close monitoring of pregnancy from 41 weeks of gestation as well as propose an induction of labor. The membrane sweeping is one of methods for induction of labor can be proposed to pregnant womens. METHODS - A retrospective case-control unicentric study by file study was carried out from June 15, 2017 to December 15, 2017. 25 patients were included in the group of sweeping membrane versus 30 in the control group. The results of the study were compared with the literature. RESULTS - The membrane sweeping did not increase spontaneous labor initiation rates and did not improve cervical features. The maternal-fetal morbidity and adverse effetcs were not increased by her practice. CONCLUSION - The literature concluds in an efficiency of the membrane sweeping on the setting in spontaneous labor. Since adverse effects and maternal-fetal morbidity are not increased, its low-cost practice should be included in the strategy for the management of late term pregnancies.
INTRODUCTION - La grossesse prolongée et le terme dépassé sont définis respectivement à partir de 41+0 SA et 42+0 SA. On sait que la morbi-mortalité périnatale est augmenté en cas de grossesse prolongée ainsi que la morbidité maternelle. Les recommandations françaises et internationales conseillent une surveillance rapprochée de la grossesse à partir de 41 SA ainsi que de proposer un déclenchement. Le décollement du pôle inférieur de l'oeuf fait partie des méthodes de déclenchement pouvant être proposé aux patientes. MÉTHODE - Une étude rétrospective cas-témoin unicentrique par étude de dossier a été réalisé du 15 juin 2017 au 15 décembre 2017. 25 patientes ont été incluses dans le groupe décollement du pôle inférieur de l'oeuf versus 30 dans le groupe témoin. Les résultats de l'étude ont été comparés avec la littérature. RÉSULTATS - Le décollement des membranes n'a pas augmenté le taux de mise en travail spontané et n'a pas amélioré les caractéristiques cervicales. La morbidité materno-foetale n'était pas augmentée par sa pratique ainsi que les effets indésirables. CONCLUSION - La littérature elle conclut en une efficacité du décollement des membranes sur la mise en travail spontané. Les effets indésirables et la morbidité materno-foetale n'étant pas augmenté, sa pratique à faible coût doit être incluse dans la stratégie de prise en charge des grossesses prolongées.
Fichier principal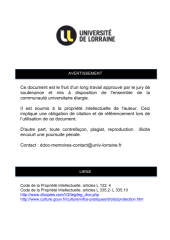 BUMED_MESF_2018_GRILLO_MAEVA.pdf (2.38 Mo)
Télécharger le fichier
Origin : Files produced by the author(s)